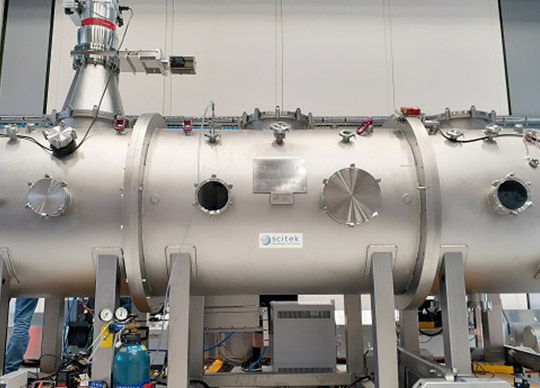 The Paihau-Robinson Research Institute says it is researching high-temperature superconductivity and is making its in-depth HTS knowledge available for space applications.
HTS technology could be a valuable ingredient when it comes to significantly enhancing the performance and flexibility of so-called Applied Field Magneto-Plasmadynamic Thrusters (AFMPD).
To be able to investigate the effect of HTS magnets on the performance of AFMPD propulsion in detail, the Paihau-Robinson Research Institute says it has set up a space simulation chamber in collaboration with Australian scientific vacuum solution specialist, Scitek.
A prototype of the thruster is being developed in the laboratory, with the HTS magnet part of the thruster to be taken to the International Space Station (ISS) and put through its paces in the vacuum of space.
To be able to generate the required working pressure of about 10-7 mbar at an Argon gas flow of 100 sccm in the vacuum chamber, enormously high pumping rates of about 50,000 L/s are needed.
This requires, among other things, a large roots pump, powerful turbomolecular pumps, and a 4,200 L/s cryogenic pump – but also special Meissner traps designed to directly pump the Argon gas from the plasma.
For these Meissner traps to perform well, the residual moisture in the chamber must be minimized.
This is one of the many reasons why Scitek works with VAT high-precision valves, such as the VAT 11.1, 12.1, and 14.0 series gate valves and 24.4 series angle valves, for the vacuum components and their control.