By Staff Writer
(Updated 22/9/2021 – below)
Today marks one year since Southern Launch successfully launched two rockets to the edge of space.
The excited company Tweeted this morning, "Happy one year anniversary to the TED-01 and TED-02 missions 😊"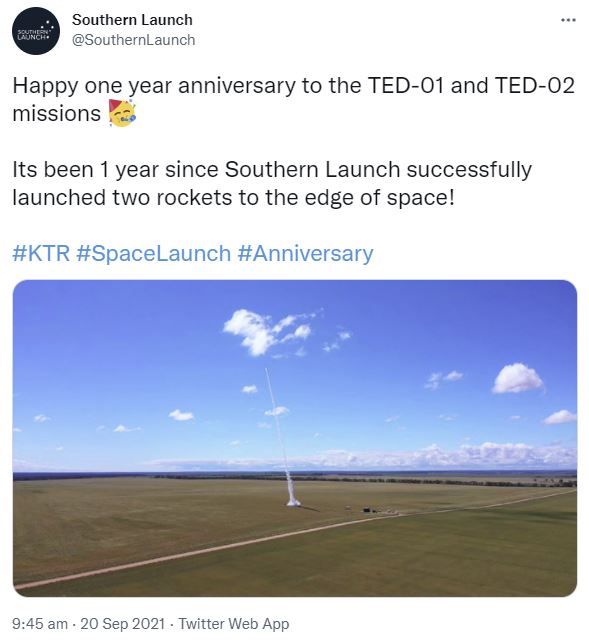 But the last week hasn't been all smiles for the Southern Launch crew.
The Australian space company has been forced to abort two scheduled launches, the latest one a test rocket from the Eyre Peninsula, this time because of a last-minute systems fault.
The suborbital Hapith 1 rocket was supposed to launch from Southern Launch's Whalers Way Orbital Launch Complex last Wednesday, but at 2.18pm the countdown was halted just before lift-off at T-34 minutes after one of the rocket's systems failed to come online.
The rocket is owned by Taiwanese company TiSPACE and was set to be the first to blast off from Southern Launch's proposed new launchpad facility as part of a government-approved test.
It has now been put into a safe state in accordance with safety protocols while TiSPACE and Southern Launch assess whether they can attempt another launch at a later date.
The launch was originally scheduled Friday 10 September 2021, but it was aborted because of strong winds.
At the time, Southern Launch chief executive Lloyd Damp said the delay was a disappointment, but the launch window was still open until September 23.
The Whalers Way Oribital Launch Complex is in a conservation zone about 25-kilometres southwest of Port Lincoln.
Southern Launch plans to use the test launch to gather noise and vibration data to determine the impact of rocket launches on native wildlife while it waits on approval to build two permanent launchpads at the Whalers Way site.
UPDATE 22 September 2021
SOUTHERN LAUNCH UPDATE: 22/09/2021
After inspection of the Hapith I vehicle, post the September 16th launch attempt, Southern Launch and TiSPACE have concluded that we won't continue with any further launch attempts of this particular vehicle.
Lloyd Damp, Southern Launch CEO said,
"This test launch vehicle may not have taken Australia to space, however it has provided our teams with valuable data and insights, which will lead TiSPACE in refining their launch vehicle capabilities further, and Southern Launch with the vibration and noise data needed to support the major development of the Whalers Way Orbital Launch Complex.
We thank the Australian Space Agency, the Government of South Australia, and the emergency services for their support of the VS01 test launch campaign. And, we thank all of the businesses and individuals who went above and beyond in their assistance to our teams during the test launch."
The Southern Launch team are now underway preparing for the next two proposed test launch campaigns from the Whalers Way Orbital Launch Complex.
More details to come on VS02 and VS03 test launch campaigns, proposed to be completed by 31 December 2021.