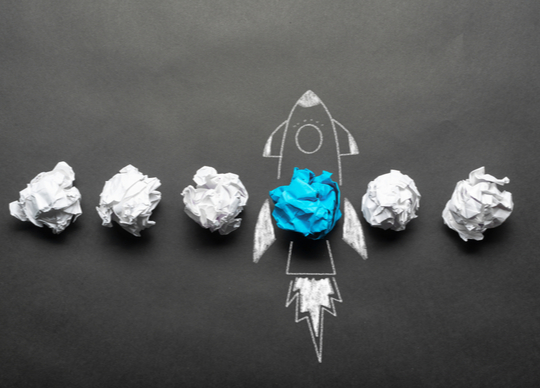 Seventy-five years ago, a camera aboard a V-22 rocket returned the first-ever photograph captured from space. The black and white image was taken with a 35 millimeter motion picture camera at an altitude of 65 miles, just above the Karman Line, the official boundary between Earth's atmosphere and outer space.
Fast forward to today, an exciting era where advances in engineering are helping to transport human technology far beyond Earth's atmosphere. As the rapid pace of innovation continues not only for space exploration but across the global aerospace industry, organizations continue to turn to the cloud for the speed, agility, and innovation required for complex space missions.
In the commercial space industry, we're seeing that even small organizations can have a big impact by leveraging the cloud for the space missions of tomorrow. That's why today Amazon Web Services (AWS) is announcing the next AWS Space Accelerator.
2022 AWS Space Accelerator
The AWS Space Accelerator is a four-week technical, business, and mentorship opportunity open to space startups from around the globe. Now in its second year, the AWS Space Accelerator is designed to support innovative startups from around the world looking to power their space missions using AWS. The application period opens today, with proposals due by April 15, 2022.
In 2022, AWS will deliver the AWS Space Accelerator in collaboration with AlchemistX, an organization based in Silicon Valley with extensive experience running customized accelerator programs for startups at all stages of development. AWS and AlchemistX will select 10 startups to participate in the four-week curriculum taking place in June.
Applications for the AWS Space Accelerator will be judged on several factors, including but not limited to: the innovative and unique nature of the project, the overall value the solution may bring to the industry, the creative application of AWS technology to solve problems, and the team's ability to deliver on an identified opportunity.
Startups will receive up to $100,000 in AWS Activate credit, as well as mentoring from space domain and technical subject matter experts with deep experience working on AWS. The program offers collaboration and networking opportunities with other participating startups, AWS customers, and members of the AWS Partner Network (APN) looking for cutting-edge technology solutions to their most challenging space problems. It will also bring participants together with space-savvy venture investors for fundraising conversations.
Since last year's accelerator participants were selected in May of 2021, the group collectively raised more than $359 million. In addition, Space Accelerator alum LeoLabs was listed among Fast Company's list of The World's most Innovative Companies, and several others were recognized as leaders in industry innovation from organizations including Euroconsult and the Intelligence and National Security Alliance (INSA).
The 2021 cohort of startups integrated AWS Cloud solutions to boost their missions related to earth observation, robotics, spacecraft launch and delivery, spacecraft hardware and software, satellite operations, human space travel, and launch operations.
"The AWS Space Accelerator provided us at Lunar Outpost the technical and business tool kit to prepare us for the rapid growth we are currently undergoing. Additionally, the accelerator provided a unique opportunity to network and collaborate with the best in class in the space industry. Opportunities such as the AWS Space Accelerator are a must for any space company looking to leverage the cloud to reach the stars." -Justin Cyrus, chief executive officer (CEO), Lunar Outpost.