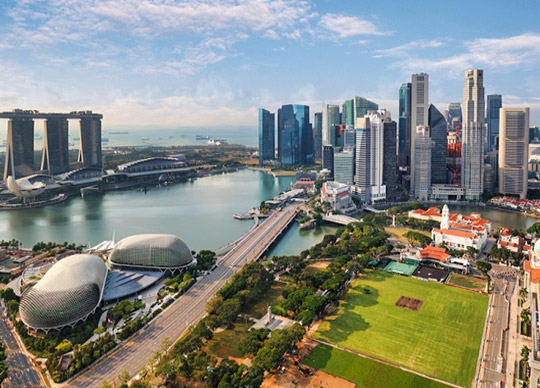 Mangata Networks has established Singapore as the location for its Maritime Global Headquarters (MGHQ).
Supported by the Office for Space Technology and Industry, Singapore (OSTIn,) the MGHQ will enable the development of vital technology, enhance Singapore's position as a key player in the space industry, and support the rapid growth of Mangata's operations in the region.
The establishment of Mangata's MGHQ will create business and technology, such as:
 An end-to-end simulation and development lab; a virtualised version of Mangata's satellite system simulating how modems and network controls work, and how the system supports maritime traffic.
 A maritime commercial testbed; a network of maritime-optimised edge micro data centres built to research and test hardware configurations, demonstrate network capabilities, and act as a testbed for Mangata and third-party developed solutions.
 A maritime edge and service applications development platform empowering the research, design, and manufacturing of a suite of satellite-enabled hardware and software products that support global maritime operations.
A systems infrastructure R&D centre providing data and continuous feedback for satellite and ground network optimisation to support Mangata's satellite constellation. Mangata will also train support staff to oversee, operate, and develop tools for optimal network function.
The digitisation and automation of processes will drive cost-savings, optimise operational efficiency, and improve compliance with maritime regulations. Real-time monitoring will provide increased safety for ships and cargo, as well as better surveillance of maritime activities on ports and at sea.
In the next 3 years, Mangata's maritime headquarters will support the creation of a large number of highly skilled jobs and offer training and knowledge-transfer opportunities to the local workforce, thus contributing to Singapore's space and maritime industry.
"There is no better place to open our maritime HQ than in Singapore. The partnership between Mangata and OSTIn demonstrates our joint dedication to developing technology that can transform the maritime industry, in Singapore and beyond. Our technology will offer an advantage to businesses along the entire supply chain through automation and digitization, leading to operational and commercial efficiency. Products and solutions built using our platform will support the continuity and growth of businesses who want to remain relevant and competitive in the global economy. It will bring us one step closer in doing our part to bring connectivity and knowledge sharing to everyone, everywhere, bit by bit." – Mangata Networks Team.
"Mangata's decision to anchor its maritime global HQ in Singapore is a strong testament to our growing space ecosystem and importance as a global maritime hub. The MGHQ will boost the technology and innovation capabilities of our space sector and bring with it, business and job opportunities. OSTIn is delighted to partner Mangata on its journey of innovation to transform the maritime industry." – David Tan, Executive Director, OSTIn
MySecurity Media (Australia in Space Magazine ) are proud media partners to the #GSTC2023 .