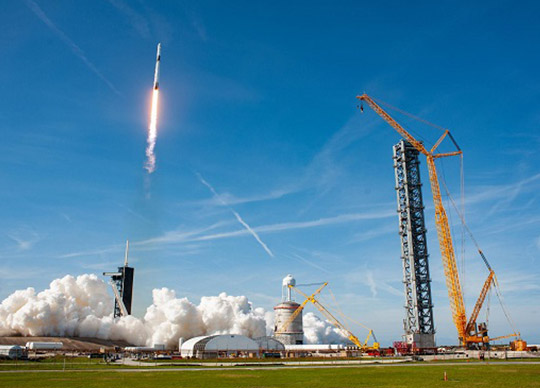 NASA and SpaceX are targeting 12:35 p.m. EDT Saturday, June 3, to launch the company's 28th commercial resupply services mission to the International Space Station from Launch Complex 39A at the agency's Kennedy Space Center in Florida.
Live launch coverage will air on NASA Television, the NASA app, and the agency's website, with prelaunch events starting Friday, June 2. Follow all events at: https://www.nasa.gov/live
SpaceX's Dragon will deliver new science investigations, food, supplies, and equipment for the international crew, including the next pair of IROSAs (International Space Station Roll Out Solar Arrays). The solar panels, which roll out using stored kinetic energy, will expand the energy-production capabilities of the space station. This will be the fifth and sixth IROSAs launching in a SpaceX Dragon's trunk. Each new IROSA will produce more than 20 kilowatts of electricity, and once all are installed, will enable a 30% increase in power production over the station's current arrays.
Arrival at the station is scheduled for 5:36 a.m. Monday, June 5. The SpaceX Dragon spacecraft will dock autonomously to the station's zenith port of the Harmony module.
The spacecraft is expected to spend about a month attached to the orbiting outpost before it returns to Earth with research and return cargo, splashing down off the coast of Florida.
The deadline has passed for media accreditation for in-person coverage of this launch. The agency's media accreditation policy is available online. More information about media accreditation is available by emailing: ksc-media-accreditat@mail.nasa.gov.
Full coverage of this mission is as follows (all times Eastern).
Friday, June 2
4 p.m. – Prelaunch media teleconference (no earlier than one hour after completion of the Launch Readiness Review) with the following participants:
Phil Dempsey, transportation integration manager, International Space Station Program
Dr. Kirt Costello, chief scientist, International Space Station Program Research Office
 Sarah Walker, director, Dragon mission management, SpaceX
Arlena Moses, launch weather officer, Cape Canaveral Space Force Station's 45th Weather Squadron
Saturday, June 3
12:15 p.m. – NASA TV launch commentary begin
12:35 p.m. – Launch
Monday, June 5
4 a.m. – NASA TV coverage begins for Dragon docking to the space station
Approximately 5:36 a.m. – Docking to Harmony zenith port
Coverage is subject to change based on real-time operational activities. Follow the International Space Station blog for updates.
NASA TV launch coverage
Live coverage of the launch on NASA TV will begin at 12:15 p.m. Saturday, June 3. For downlink information, schedules, and links to streaming video, visit: https://www.nasa.gov/nasatv
Audio only of the news conferences and launch coverage will be carried on the NASA "V" circuits, which may be accessed by dialing 321-867-1220, -1240, or -7135. On launch day, the full mission broadcast can be heard on -1220 and -1240, while the countdown net only can be heard on -7135 beginning approximately one hour before the mission broadcast begins.
On launch day, a "tech feed" of the launch without NASA TV commentary will be carried on the NASA TV media channel.
NASA website launch coverage
Launch day coverage of the mission will be available on the NASA website. Coverage will include live streaming and blog updates beginning no earlier than 12:15 p.m. Saturday, June 3, as the countdown milestones occur. On-demand streaming video and photos of the launch will be available shortly after liftoff. For questions about countdown coverage, contact the Kennedy newsroom at 321-867-2468. Follow countdown coverage on our launch blog for updates.
Attend launch virtually
Members of the public can register to attend this launch virtually. Registrants will receive mission updates and activities by email. NASA's virtual guest program for this mis sion also includes curated launch resources, notifications about related opportunities, and a virtual guest passport stamp following a successful launch.