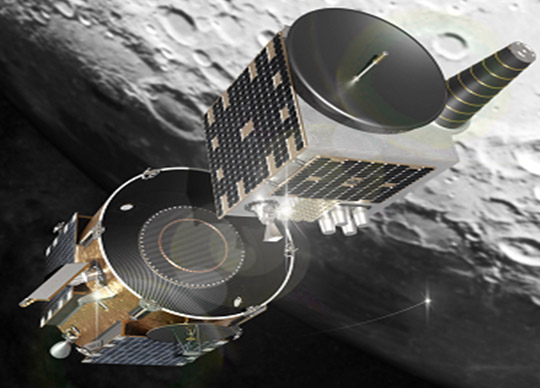 To carry multiple payloads to the far side of the Moon including a satellite to orbit that area, NASA has selected Firefly Aerospace of Cedar Park, Texas. The commercial lander will deliver two agency payloads, as well as communication and data relay satellite for lunar orbit, which is an ESA (European Space Agency) collaboration with NASA.
The contract award, for just under $112 million, is a commercial lunar delivery targeted to launch in 2026 through NASA's Commercial Lunar Payload Services, or CLPS, initiative, and part of the agency's Artemis program.
This delivery targets a landing site on the far side of the Moon for the two payloads, a place that permanently faces away from Earth. Scientists consider this one of the best locations in the solar system for making radio observations shielded from the noise generated by our home planet. The sensitive observations need to take place during the fourteen earth-day long lunar night.
One of these payloads delivered to the lunar surface aims to take advantage of this radio-quiet zone to make low-frequency astrophysics measurements of the cosmos – focusing on a time known as the "Dark Ages," a cosmic era that began some 370,000 years after the Big Bang and lasted until the first stars and galaxies formed. Since there is no line of sight and no direct communication with Earth from the far side of the Moon, Firefly also is required to provide communication services.
"NASA continues to look at ways to learn more about our universe," said Nicola Fox, associate administrator, Science Mission Directorate at NASA Headquarters in Washington. "Going to the lunar far side will help scientists understand some of the fundamental physics processes that occurred during the early evolution of the universe."
Firefly is responsible for end-to-end delivery services, including payload integration, delivery from Earth to the surface and orbit of the Moon, and NASA payload operations for the first lunar day. This is the second award to Firefly under the CLPS initiative. This award is the ninth surface delivery task award issued to a CLPS vendor, and the second to the far side.
"We look forward to Firefly providing this CLPS delivery," said Joel Kearns, the deputy associate administrator for exploration in NASA's Science Mission Directorate. "This lunar landing should enable new scientific discoveries from the far side of the Moon during the lunar night. This particular group of payloads should not only generate new science but should be a pathfinder for future investigations exploiting this unique vantage point in our solar system."
The three payloads slated for delivery are expected to weigh in total about 1,090 pounds (494.5 kilograms). These payloads are:
Lunar Surface Electromagnetics Experiment-Night (LuSEE-Night): A pathfinder to understand the Moon's radio environment and to potentially take a first look at a previously unobserved era in our cosmic history. It will use deployable antennas and radio receivers to observe sensitive radio waves from the Dark Ages for the first time. LuSEE-Night, is a collaboration between the Department of Energy's (DOE) Brookhaven National Laboratory, the University of California, Berkeley, Space Science Laboratory, and NASA's Science Mission Directorate. It is managed for NASA by the Planetary Missions Program Office at NASA's Marshall Space Flight Center in Huntsville, Alabama.
Lunar Pathfinder: A communications and data relay satellite that will provide communication services to lunar missions via S-band and UHF links to lunar assets on the surface and in orbit around the Moon and an X-band link to Earth. ESA's Lunar Pathfinder is designed and developed by Surrey Satellite Technology Limited. ESA collaborated with NASA for delivery through the CLPS initiative.
User Terminal (UT): This payload will institute a new standard for S-Band Proximity-1 space communication protocol and establish space heritage. It will be used to commission the Lunar Pathfinder and ensure its readiness to provide communications service to LuSEE-Night. It consists of software-defined radio, an antenna, a network switch, and a sample data source. UT is in development by NASA's Jet Propulsion Laboratory in Southern California.
Commercial deliveries to the lunar surface with several providers continue to be part of NASA's exploration efforts. Future CLPS deliveries could include more science experiments and technology demonstrations that further support the agency's Artemis program.
Learn more about CLPS at: http://www.nasa.gov/CLPS