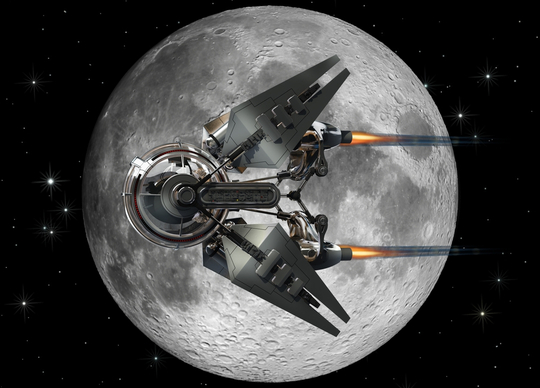 By Staff Writer.
NASA's lunar exploration program Artemis is on track for its first uncrewed test flight to launch as soon as late May. A crewed Artemis II mission planned for May 2024 will follow Artemis I, and Artemis III is slated for 2025 and will return man to the Moon for the first time since 1972.
The multi-billion-dollar Artemis program has three motives: scientific discovery, economic benefits, and inspiration for new generations. The advent of Artemis coincides with the ramp up of the global space economy. NASA says Artemis is a big opportunity for the industry, but with that comes significant responsibility for the agency.
"Space is a $480 billion industry right now, and it's on the way towards targeting one trillion dollars, and I suspect it will get there faster than we think," said NASA's James Reuter at the Space Symposium in Colorado last week.
NASA says both the Artemis program and the space agency are intrinsically tied to the global space economy. They see their role as an incubator and facilitator of talent, science, technology, and good practice that filters through to the entire space economy.
"The space economy is just the production of goods and services in space for all different kinds of reasons," said James Free, NASA's Associate Administrator for Explorations Systems Development. "I think there are many ways we can develop it, but the best way is to bring in more and more participants and watch more and more missions start to proliferate – both government and non-government missions."
Speaking at multiple events at the Symposium, NASA consistently said the space economy was bigger than what was just happening in the United States. James Free says NASA's international partners like the Australian Space Agency (ASA) are critical. He says international partner agencies have an entire local space industry ecosystem behind them that NASA can tap into.
But NASA's Associate Administrator at the Science Mission Directorate, Dr Thomas Zurbuchen, says there's still a lot of learning ahead for the space industry. He says the sheer amount of US-based venture capital now expended on the space sector vastly eclipses what's spent elsewhere, and that creates a kind of tension.
"We could be working with every international partner and creating agreements to fly their instruments to the Moon using commercial lunar payload services – I think that would be a horrific mistake," he said. "What I just do is I destroy part of the market."
While NASA is proud of the role Artemis will play in developing the space economy and building its relationships with international partners. But ultimately, NASA wants to stimulate more commercial interest in space and wind down being the middle man between international partner agencies and US-based commercial space interests.
Dr Zurbuchen says that outcome would be a seamless space market with far less friction, but he admits everyone in the industry, NASA included, is still learning how to get there.
"Space is evolving," added James Free. "Our job at NASA is not to hold on. We don't want to do services for landers forever; we're pushing the next boundary.
"In some 20 years' time, I'm hopeful that there's some infrastructure on the lunar surface that is available to and used by commercial entities that we still use, but not as the sole owner. I'm hopeful that we're pushing on our way to Mars – if that's the case, then there's an economy there that we have been part of creating."