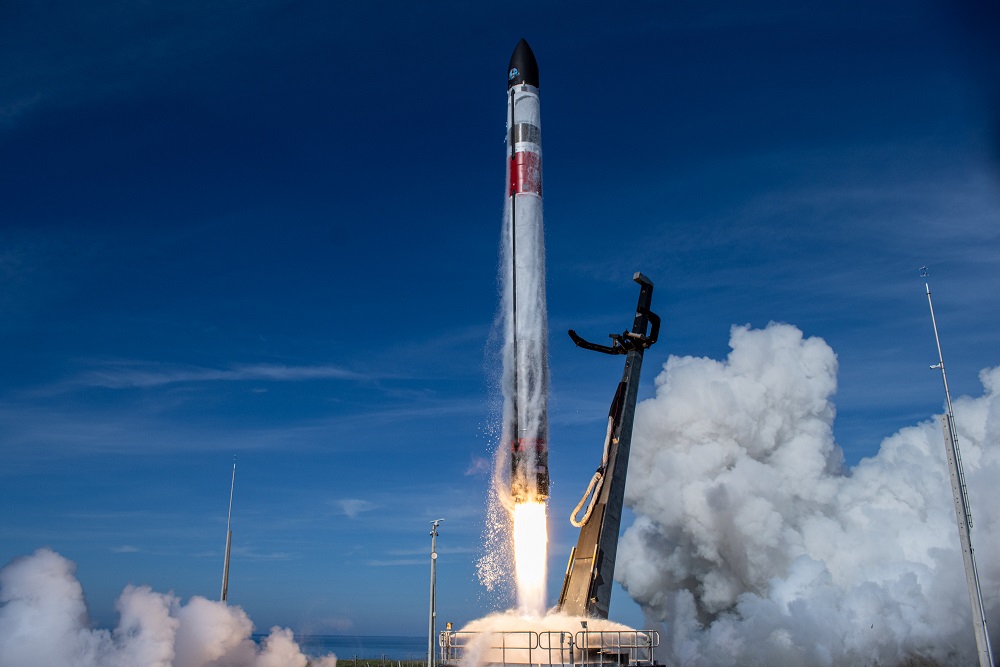 By Staff Writer.
Rocket Lab has successfully used a helicopter to intercept a rocket booster falling back to Earth. The California-headquartered space agency executed the tricky manoeuvre off the New Zealand coast on Tuesday in its bid to perfect the world's first reusable small satellite launcher.
Rocket Lab Electron launch late on Tuesday morning (New Zealand time) from its custom-built launchpad on New Zealand's Mahia Peninsula went off without a hitch.
Electron is a two-stage, partially recoverable orbital-class small rocket developed by Rocket Lab. There have now been 26 successful Electron launches. Powered by the world's first 3D-printed, electric-pump-fed rocket engine, the 18-metre-tall spacecraft is designed to service the booming small satellite launch market.
Onboard Tuesday's rocket was 34 satellites, including picosatellites weighing less than one kilogram each. Tuesday's payload belonged to multiple companies, including Alba Orbital, Astrix Astronautics, Aurora Propulsion Technologies, E-Space, Spaceflight, and Unseenlabs. To date, the Electron launches have successfully deployed 146 satellites.
But all eyes were on the recapture of Electron's booster as it glided back to Earth. Rocket Lab has previously recovered three boosters after controlled splashdowns, but any splashdown involves exposure to corrosive saltwater and impact damage.
Having burned through 21 tonnes of fuel and around two and half minutes after launch, the now-empty booster detached from the Electron spacecraft. A reaction control system re-oriented the first stage to an ideal angle for re-entry. However, the booster was still travelling back towards Earth at 8,300 kilometres per hour before a drogue parachute was deployed to increase drag and stabilise the booster as it descended. A large main parachute was deployed around six kilometres up during the final stages of the descent.
Tuesday's plan was for a Sikorsky S-92 helicopter to intercept the booster at 6,500 feet. The pilots would use a hook on a long line to capture the parachute line.
In a world-first, the pilots successfully snagged the booster's parachute while descending at around 10 meters per second. The intercept occurred about 150 miles off New Zealand's east coast approximately 15 minutes after launch.
But the helicopter pilot "detected different load characteristics" and jettisoned the booster into the ocean, where it was later successfully retrieved by a ship on standby. Nonetheless, Rocket Lab founder and CEO Peter Beck was chuffed.
"Bringing a rocket back from space and catching it with a helicopter is something of a supersonic ballet," he said. "From here we'll assess the stage and determine what changes we might want to make to the system and procedures for the next helicopter catch and eventual re-flight."
Mr Beck told local media that the pilots let the booster go because they weren't happy about how the helicopter was flying. The load was about one percent outside the parameters encountered during simulations and trials. Mr Beck called that margin "trivia," but the pilots used their discretion. More testing will now occur before another mid-air booster capture is attempted.
But Rocket Lab claims the recapture mission was a success and an important step in redeveloping a cost-effective reusable spacecraft and establishing a competitive advantage over rivals like SpaceX. After recovering the booster on Tuesday, Rocket Labs will transport it to Auckland for assessment before deciding on its re-use.