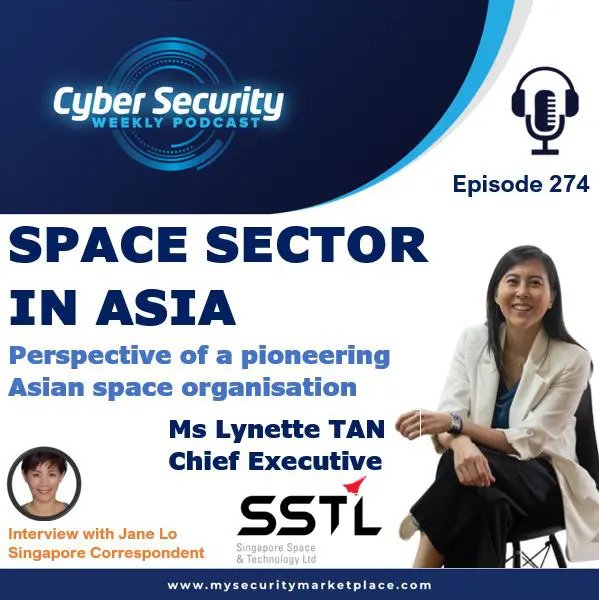 Jane Lo, Singapore Correspondent speaks with Ms Lynette TAN, Chief Executive. Singapore Space and Technology Limited (SSTL).
As Chief Executive and Board Member of SSTL, Lynette develops the organisation's industry initiatives, leads its startup accelerator programmes and drives its consulting business, identifying opportunities for government organisations, companies and individuals to make critical decisions in the growing Asian space industry. In addition to running SSTL's very own space accelerator programme for tech startups, she is also the managing Partner of Project Cyclotron, an exclusive programme with the Singapore government that assists early stage, deep tech, space start-ups.
She is a Karman Fellow, an international award given to individuals whose achievements in space are outstanding. She is also an advisor to German space start up, MyelinS.
Lynette is active in promoting Science, Technology, Engineering and Mathematics interest amongst youths and women. For her efforts and accomplishments, she received the Lancôme Visionary Award in 2018 and was recently recognised for her "Outstanding Contributions to the Science & Technology Industry" by a leading women's publication. She was also recognised as a Trailblazer on the inaugural "Singapore 100 Women in Tech List" in 2020 for her outstanding efforts to put Singapore on the map of the space industry and for being a pioneer in the region's space sector.
In this podcast, Lynette shares the highlights of the space sector and the latest news, and Singapore's role in developing the ecosystem. With the rich space heritage across the world, she stresses the importance of connecting the "best and the brightest", the "movers, shakers, ideas and people who are going to get the job done", to push the space technology frontier and better lives.
As the sector is expected to continue its steady growth in the coming years, Lynette discusses the focus on accelerating innovations and cultivating the talent pipeline in order to realise the sector's ambitions.
Lynette also provides updates on recent partnerships, including Project Cyclotron – a Cap Vista and SSTL's joint venture-building program for space and deep tech companies, and the GNSS (Global Navigation Satellite System) collaboration between SSTL and ST Engineering.
Recorded: Friday 23rd July 2021 / 7.15am (Singapore Time)