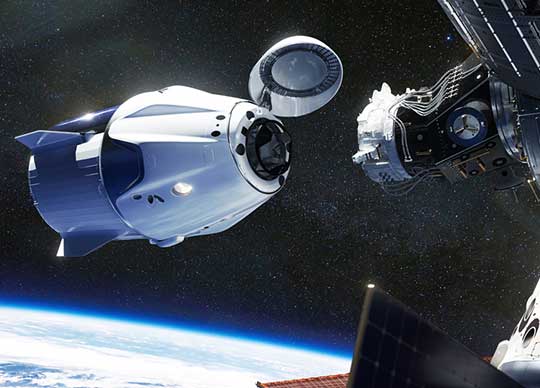 Staff Writer
Western Australia made its space industry debut in August when a CubeSat small enough to sit in your hand went into space. It is the first of seven Western Australia designed and built CubeSats scheduled to launch over the next 18 months.
On August 29, a SpaceX Falcon 9 rocket launched a Cargo Dragon C208 spacecraft into orbit from Florida's Kennedy Space Centre. Operating as a commercial resupply mission to the International Space Station, also onboard were several CubeSats, including Binar-1 from Perth's Curtin University.
Some six weeks after arriving at the ISS, Binar-1 will launch via an airlock and go into orbit approximately 400 kilometres above Earth.
Buying the CubeSat shells "off the rack" from international partners, Curtin's Space Science and Technology Centre (SSTC) built Binar-1 using a single eight-layer printed circuit board. The 0.25U core integrates the satellite's systems into a single module, including the flight computer, power system, altitude determination and control, and localiser.
SSTC says integrating key systems into one electronics board is a critical point of difference from other CubeSat builders. It allows for bigger than normal payloads and the leveraging of commodity electronics manufacturing techniques.
"The Binar spacecraft design allows us to mass-produce functioning satellites that you can hold in the palm of your hand," said the SSTC's Director, Professor Phil Bland. "Binar technology will lower the cost barriers and provide local industries with a real and practical pathway into the growing space sector."
The cube-shaped satellite weighs 1.5kg and comprises 10cm aluminium modules. Around 30 Curtin University students took part in Binar-1's design and construction. Within the CubeSat are five key components. They include the payload platform, the chassis, the integrated circuit board and power core, an altitude control system, and the communications panel.
Curtin's SSTC wants to see a fast-fail approach to space research and development in Australia. They say perfecting the CubeSat technology will represent a cost-effective sovereign capability for Australia.
The Australian space sector generated $4.8 million in 2019. Professor Bland says the sector's growth is significantly outpacing broader economic growth. But this is off a relatively low base. In the 1960s and 70s, Australia played an important role in the space race. But then the local industry went silent, and investment dried up.
The creation of a dedicated Australian Space Agency in 2018, the increasing importance of satellites, the commercialisation of near-earth space, and fewer barriers to entry are now seeing local space R&D startups like the SSTC flourish.
While still relying on external funding (the August Binar-1 launch involved $500,000 of funding from the WA Government), SSTC says it is building a local workforce capability. Costs are low, and the SSTC argues that's a compelling prospect for commercial payload customers.
"We're going to continually iterate towards a more capable platform," says Ben Hartig, Binar's Project Manager. "We're going to take on more challenging missions. By designing it all at Curtin, we have the opportunity to produce as many as we want, which means we can explore a lot of opportunities for missions."