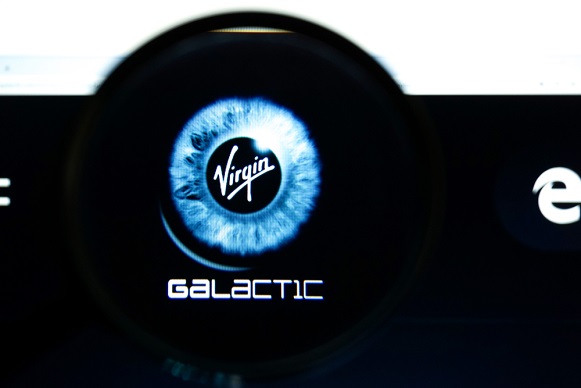 Written by staff writer.
Richard Branson's Virgin Galactic space company has completed its first commercial suborbital flight on behalf of the Italian Air Force and the National Research Council (NRC). The Galactic 01 mission departed from Spaceport America in New Mexico around 08:30 local time on June 29 and was in the air for less than 90 minutes before safely returning to the ground.
Four passengers and four crew were onboard the flight. Two of the crew, commander Mike Masucci and pilot Nicola Pecile, piloted the spacecraft VSS Unity, while the two other crew members, commander Kelly Latimer and pilot Jameel Janjua, piloted the mothership, VMS Eve.
In addition to the crew, the four passengers onboard Virgin Galactic's first commercial flight overnight included two Italian air force officers and a civilian engineer from the NRC. In addition, a Virgin Galactic astronaut instructor and 13 research payloads were also onboard.
Around 60 minutes after take off, VSS Unity separated from VMS Eve, accelerating to Mach 2.8 and an altitude of 85,000 metres. At this point, the spaceship's hybrid rocket engine turned off, allowing those onboard a brief period of silence and zero-gravity conditions. Footage of the four passengers showed them briefly floating in the cabin before buckling back into their seats and getting to work conducting microgravity research. However, as quickly as VSS Unity reached suborbital space, it began its descent, dropping to under 40,000 metres and creating a double sonic boom. Approximately 73 minutes after liftoff, VSS Unity returned to Spaceport America without incident.
The Italians signed an agreement with Virgin Galactic to put a crew onboard VSS Unity back in 2019. However, the program went on to experience several significant delays. This flight occurred two years since authorities grounded Virgin Galactic after a test flight carrying Branson and three company employees deviated from its assigned airspace. After making some changes to procedures, including allowing for more airspace, the Federal Aviation Administration later lifted the grounding order, and test flights resumed.
Colonel Walter Villadei from the Italian Air Force told media that the flight was a "breakthrough and pathfinder mission" designed to test the versatility of suborbital spaceflight for scientific and technological research. "We are flying payloads from multiple disciplines in one mission and are utilizing the entire flight profile to collect invaluable data. Suborbital spaceflight will revolutionize future aeronautics transportation, expand access to space for a much larger community, and advance the development of scientific research."
The successful Virgin Galactic flight will also be a relief to Branson, whose other space project, Virgin Orbit, recently filed for bankruptcy after a mission went awry earlier this year, causing the loss of a commercial payload of satellites. After this week's successful flight, Virgin Galactic will move to double the research payloads flown on VSS Unity and also start promoting suborbital flights as training flights for future astronauts.
Virgin Galactic also wants to start monthly flights in August for passengers willing to pay USD450,000 for the 90-minute flight. Despite the stiff price tag, around 800 people are on the waitlist. By 2026, the company hopes to fly weekly using its still-under-development Delta class spacecraft.