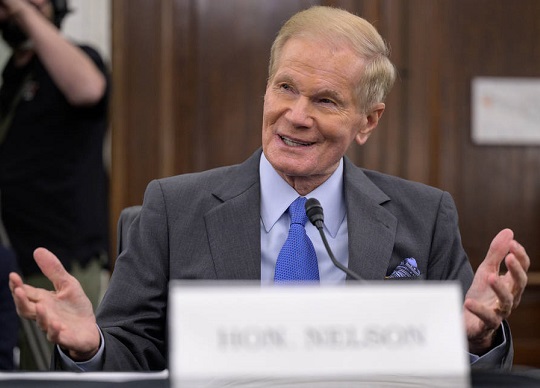 By Staff Writer
After breezing through a confirmation hearing, the US Senate voted on Thursday to confirm former Florida Democratic Senator Bill Nelson as NASA's next administrator. Mr Nelson will replace the well-regarded Jim Bridenstine in the top job at the space agency.
Underscoring Mr Nelson's popularity in Washington, the normally rancorous Senate confirmed President Joe Biden's choice by consensus, without a roll call vote.
"I am honoured by the President's nomination and the Senate vote," Bill Nelson said in a statement. "I will try to merit that trust. Onward and upward!"
"I look forward to working with Bill and the Biden-Harris Administration to build on the incredible momentum we've built so far," said acting NASA Administrator Steve Jurczyk.
Mr Nelson has a storied CV. He served as a Captain in the US Army before heading to the US House of Representatives for 12 years. Mr Nelson later represented Florida in the Senate for 18 years until 2018. In 1986, Bill Nelson headed into space. He served as a mission specialist onboard space shuttle Columbia on its STS-61-C mission.
The long time space advocate had NASA and Washington's pro-space contingent firmly in his corner as he negotiated the confirmation process.
"I think this is an inspired choice; I can't think of a better American alive to serve in this role," said Republican Senator Marco Rubio during the confirmation hearing this week.
Bill Nelson is onboard with NASA's focus on space exploration and preference to leave the low orbit space industry to the private sector. While acknowledging that "space is hard," Mr Nelson said this week he was committed to NASA's Artemis program and its 2024 deadline for putting a man on the moon.
Building on President Trump's undertaking to see humans back on the moon, Artemis is the umbrella name for a range of projects, all aiming to meet the ambitious 2024 deadline. Artemis, Bill Nelson said, had to be continued under the new administration in Washington.
"We're going to see that timetable tried to be adhered to but with some sobering reality that space is hard," said Mr Nelson during his confirmation hearing.
Also on NASA's radar under the Biden presidency is a mission to one of Jupiter's moons, Saturn's Titan, and the big-ticket Nancy Grace Roman Space Telescope set to be launched in 2026. That's in addition to a pivot back to climate science and a decision that needs to be made about the future of the International Space Station.
The new administrator also supports the development of the private space sector, something he was formerly lukewarm about. But Mr Nelson noted the private space sector has boomed and now plays an important role in supporting both NASA and commercial customers.
The private space sector is also a big employer in Bill Nelson's home ground of Florida. With a politician's instinct, Mr Nelson knew years ago it was time to change his tune.
President Biden's nominee for the deputy administrator's role at NASA is Pam Melroy, a former NASA astronaut and commander.