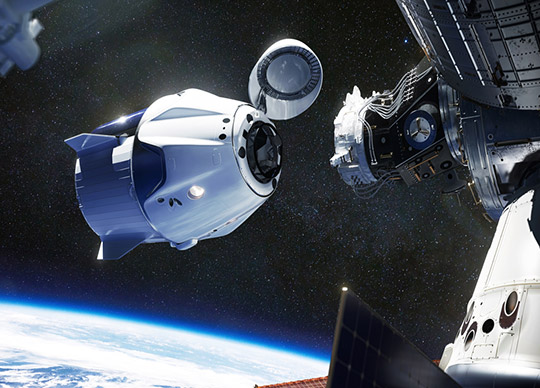 Staff Writer
A commercial resupply mission to the International Space Station (ISS) is due to launch from the Kennedy Space Center in Florida on June 3. The Falcon 9 rocket will lift off at 17:30 UTC (15:30 Sydney time). Onboard is a cargo ranging from microscopic organisms to solar panels.
Thursday's launch will be the 22nd SpaceX cargo resupply mission since they began flying missions for NASA in 2012. SpaceX's Dragon spacecraft will hitch a ride atop the Falcon 9 rocket. The reusable two-stage rocket, designed and manufactured by SpaceX, is built to carry people and cargo into Earth's orbit.
SpaceX has sent its Dragon spacecraft into orbit 26 times. But this launch will be the second after a recent upgrade that increased carrying capacity and flight time. In addition, SpaceX is using a brand-new Falcon 9 rocket to carry the Dragon spacecraft into orbit.
SpaceX's Falcon 9 rockets have made 118 launches to date. Their engines, also designed at SpaceX, are known as Merlin engines. Using rocket grade kerosene (RP-1) and liquid oxygen, the engines deliver a powerful 845kN of thrust.
Weighing 6,000 kilograms and with a capsule volume of 9.3m3, the Dragon spacecraft can carry up to seven people into orbit and back. But on Thursday, Dragon will carry no crew. Instead, 1,950 kilograms of cargo will head to the ISS.
The Dragon spacecraft will separate from the Falcon 9 rocket approximately 12 minutes after lift-off. After separation, the rocket is expected to land on SpaceX's drone ship in the Atlantic for reuse on a later mission.
Dragon will continue into orbit. The spacecraft is due to dock at the ISS at 09:00 UTC on Saturday.
In addition to supplies for the Expedition 65 and 66 crew currently at the ISS, Thursday's mission will focus on scientific research and technology demonstrations.
"Experiments aboard include studying how water bears tolerate space, whether microgravity affects symbiotic relationships, analysing the formation of kidney stones," says NASA in a statement.
Those experiments range from stress testing cotton plants to reveal features of root system formation that breeders and scientists can target to improve characteristics such as drought resistance or nutrient uptake to kidney stone research.
The kidney stone research will study the effects of microgravity on the formation of microcrystals that can lead to kidney stones.
"This investigation could reveal critical pathways of kidney disease development and progression, potentially leading to therapies to treat and prevent kidney stones for astronauts and for the one in ten people on Earth who develop them," says NASA.
Also going into space is a pair of roll-out solar arrays developed in Canada. These will be mounted on some of the ISS's existing arrays by Expedition 65 astronauts to augment the station's power supply. The astronauts will conduct spacewalks in June to install them.
The Dragon spacecraft will spend around a month in orbit before returning to Earth.
In the event of weather or other issues on Thursday, a backup launch opportunity is available on Friday at 17:00 UTC.