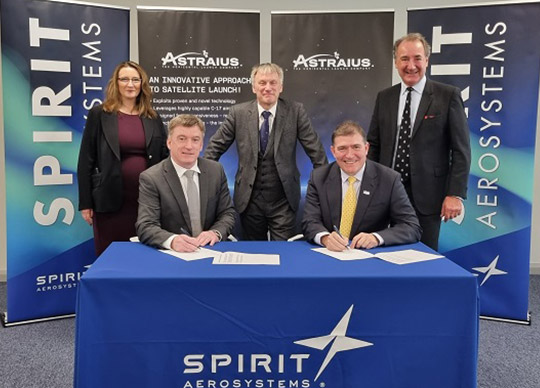 Spirit AeroSystems and Astraius have announced a collaboration to enhance future satellite launch capabilities from Prestwick Spaceport.
During a visit to the Spaceport by Scottish Government Minister for Business, Trade, Tourism, and Enterprise Ivan McKee, the companies commemorated the announcement with a signing ceremony.
Prestwick Spaceport, a joint partnership between Glasgow Prestwick Airport and South Ayrshire Council, aims to become Europe's premier location for carrying small satellites into orbit via "air launch," a proven technique that enables a rocket to reach space after being launched from an aircraft that has flown out to an ideal location over the ocean.
Spirit and Astraius – both located within Prestwick's developing space cluster – are working to advance and accelerate the system components and key processes required for the Astraius horizontal launch platform.
The U.K. government says it has made orbital launch a key priority, with the National Space Strategy outlining plans to secure an increased portion of a global space economy expected to be worth £490bn by 2030.
The space sector in the U.K. employs more than 45,000 people, with Scotland accounting for one-fifth of that figure.
Scott McLarty, Spirit Senior Vice President, Airbus and Regional/Business Jet Programs, said Spirit's sites in both Scotland and Northern Ireland are well placed to support and develop a robust and sustainable space sector.
"Spirit is well-positioned to develop new skills and technologies to contribute to the U.K.'s resilience and supply chain in the space sector and support high-value manufacturing regional hubs," he said. "We are delighted to be working with Astraius to explore opportunities to contribute further to the expansion of the U.K. Space Sector, through the design, manufacturing, integration and testing of aerostructures for launch activities."
Astraius Chief Executive Officer Kevin Seymour stated, "This Memorandum of Understanding (MoU) is the first step in what I'm confident will be a long-term partnership with Spirit AeroSystems. Spirit's advanced manufacturing expertise and world-class facilities can significantly bolster our development roadmap, bringing together UK engineering excellence with proven horizontal launch technology. With both companies located in Prestwick, Scotland's largest aerospace cluster, our collaboration is further testament to the proactive and vibrant space ecosystem developing around Prestwick Spaceport."
On the collaboration between Spirit and Astraius, Minister Ivan McKee commented, "There is great potential and opportunities in the space sector in Scotland with the first orbital launch from Scottish soil due this year. That is why we have identified the sector as a priority in our National Strategy for Economic Transformation. Our ambition is clear, we want to become Europe's leading space nation by 2030. The signing of this MoU is great news, and it is another positive step in the development of space and aerospace opportunities in Prestwick. Spirit AeroSystems brings a wealth of capability and technologies that can support further growth of the space sector in Scotland, and I am excited about the innovative developments Spirit and Astraius can bring to Prestwick."
Ian Annett, Deputy Chief Executive Officer at the U.K. Space Agency, said: "We are committed to becoming the leading provider of commercial small satellite launches in Europe by 2030 and we welcome the partnership between Spirit AeroSystems and Astraius, which brings Astraius another step closer towards conducting a launch from the U.K. Developing orbital launch capabilities is already helping the space sector to generate growth across science and engineering supply chains, catalyse investment, create new jobs and career paths, and inspire the next generation of space professionals all over the U.K."