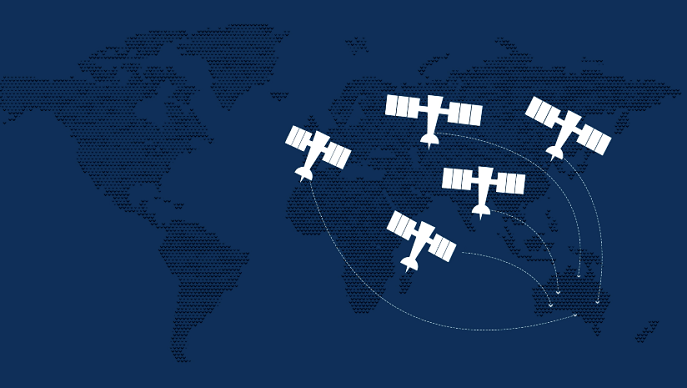 By staff writer.
According to experts in the field, a five-day outage of SouthPAN services in late April that caused widespread disruption to Australian geospatial users had a small silver lining. The outage highlighted the need for redundancy services and the ability to switch automatically from primary to secondary providers.
SouthPAN, formally the Southern Positioning Augmentation Network, is a joint initiative of the Australian and New Zealand Governments. It provides satellite-based augmentation system services for Australia and New Zealand.
On April 17, 2023, Inmarsat released a statement saying its I-4 F1 satellite, which provides L-band services for East Asia and the Pacific region, was experiencing outages. The following day, GeoScience Australia, the Australian Government's lead agency on the project, confirmed SouthPAN satellite services were unavailable to Australian and New Zealand users.
"SouthPAN takes the GPS signal, it gives it its correction, and sends it back to a communication satellite, which then gives the correction to the rover out in the field," said SA Surveyor General Bradley Slape at the Locate 23 conference in Adelaide last week. "What happened with SouthPAN back in April was a denial of service of the communication satellite. This one satellite was broadcasting those corrections that allowed things like farm machinery to accurately fertilize, or accurately sow crops, that went down."
"We got a double whammy for space and spatial in that we rely on satellite positioning, which is not always accurate until you apply the correction, and we rely on satellite communications. If there's no redundancy and these things fail, we start to see problems, particularly when relying on the economic benefits of accurate positioning."
In a clarification, an Inmarsat spokesperson confirmed the satellite suffered an outage due to a loss of power, and no services were denied due to any malicious attack or activity.
Slape says consumers have quickly adopted accurate positioning in their day-to-day lives, and when there is a denial of service, it can have a massive impact. He says if all the world's geospatial positioning services went offline, the global economic costs would run at approximately USD1 billion per day.
Also speaking at Locate 23, Jennifer Brindle, a hydrographic surveyor at Precision Hydrographic Services, said her company was conducting a nautical charting survey south of Kangaroo Island when SouthPAN went down. "We were affected," she said. "We were using GreenStar G4 Plus corrections at the time. Luckily, that's a worldwide service with other satellites, so we could switch and still get coverage. But (the SouthPAN outage) certainly highlights that for future reliability, there clearly needs to be the ability to broadcast corrections from another satellite, should one go down, and ideally a seamless switchover from the primary to secondary satellites."
SouthPAN early Open Services only went live in September 2022, and safety-of-life certified SouthPAN services should deploy in 2028. GeoScience Australia says SouthPAN will improve positioning and navigation services in Australia, New Zealand, and its maritime region. Using corrected satellite navigation signals directly from the satellite rather than through a mobile phone, SouthPAN offers accuracy at as little as 10 centimetres compared to a previous accuracy of 5 to 10 metres.
Five days after first going down, Inmarsat resolved the issue with the I-4 F1 satellite and restored SouthPAN positioning services were restored. Inmarsat said its satellite had suffered a partial loss of power.
Image credit : Geoscience Australia.