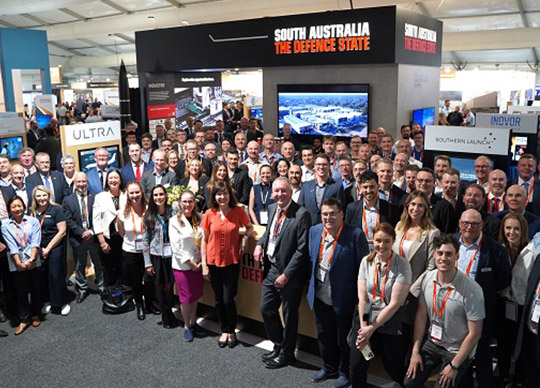 The Defence State stand was abuzz at this year's Avalon tradeshow, with South Australia fielding its largest-ever contingent of defence and space companies.
Hosted by Defence SA, 54 organisations participated on this year's South Australia – The Defence State stand showcasing the state's defence capabilities across information warfare, aerospace and advanced manufacturing. The state's space sector was also represented, demonstrating industry's satellite manufacturing, launch and space surveillance expertise.
Industry was joined by the state's three universities and the Defence Innovation Partnership – the South Australian Government's catalyst for defence-relevant research – which provided a platform to display the strength of the state's world-class defence and space research community.
Defence SA Chief Executive Richard Price said excitement about the return of Avalon after a four-year break created an energetic atmosphere across the event.
"Avalon 2023 was the largest in the event's history which generated unprecedented interest in the South Australian companies represented, and the opportunity to showcase our industry expertise and capabilities to the world," Richard said.
"Across each day of the tradeshow and at our supporting networking events, The Defence State stand was teeming with activity, providing an ideal environment for industry to demonstrate their products and services and build connections and relationships with primes and suppliers in the global supply chain."
The Defence State stand was bustling throughout the week attracting visits from international delegations from the US states of Colorado, Maryland and Washington State; Korea; Poland and the Canadian province of Quebec.
Visits by Minister for Defence Richard Marles, Chief of the Defence Force General Angus Campbell and Australian Defence Export Advocate, David Johnston also provided an opportunity for South Australian companies to meet with key defence representatives.
The South Australian delegation also welcomed South Australian Deputy Premier and Minister for Defence and Space Industries, the Honourable Susan Close, to Avalon for the first time.
"Overwhelmingly, Avalon 2023 has proved to be a huge success for the South Australian organisations involved which will continue to propel momentum in the state's defence and space industries forward," Richard said.
Business Development Manager for defence electronics company Ultra, Mike Turton, who was an exhibitor on The Defence State stand, echoed this sentiment.
"Ultra was proud to be a part of the DefenceSA contingent attending Avalon 2023 and we were impressed by the number and quality of people coming to the stand," Mike said. "We were grateful to share the stand with some amazing defence industry colleagues showcasing their innovative offerings. "
Ultra's contingent represented the breadth of the company's international capability covering tactical datalinks, high end comms, crypto as well as sovereign next generation electronic warfare and sonar.
"The event was a fantastic success and we are grateful for the engaging and fruitful discussions with both our industry partners, public service and senior defence force personnel," he added.
A range of innovative products drew crowds to the stand including Airspeed's prototype of its Information Warfare Training Pod and Fleet Space's 3D printed satellite.
There were also a number of announcements from South Australian companies across the week that reinforce South Australia as a hub for defence activity.
These announcements included:
South Australia is delivering some of the nation's most complex defence projects, leading the way in supporting Australia's space endeavours and delivering innovative R&D solutions to Defence.