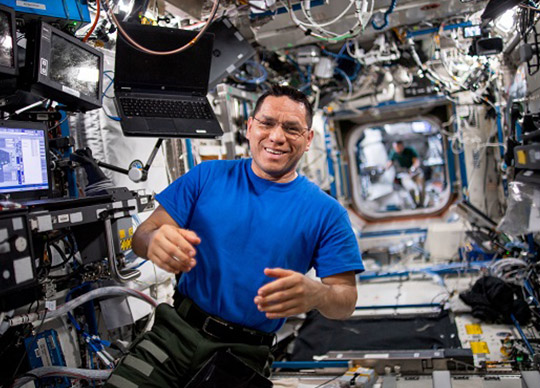 Now the record-holder for the longest single spaceflight by an American, NASA astronaut Frank Rubio is scheduled to depart the International Space Station and return to Earth Wednesday, Sept. 27. The agency will provide full coverage from hatch closing through landing.
Coverage will begin at 12 a.m. EDT and will stream live on NASA Television, the NASA app, and the agency's website. Watch online at: https://www.nasa.gov/live
Rubio and Roscosmos cosmonauts Sergey Prokopyev and Dmitri Petelin will undock their Soyuz MS-23 spacecraft from the station's Prichal module at 3:55 a.m. EDT. The trio will return after 371 days in space and a mission spanning 157.4 million miles and 5,963 orbits of the Earth. After undocking, the crew will head for a landing on the steppe of Kazakhstan, southeast of the town of Dzhezkazgan, at 7:17 a.m. (5:14 p.m. Kazakhstan time).
After landing, Rubio, Prokopyev and Petelin will be flown from the landing site to Karaganda, Kazakhstan. Rubio will then board a NASA plane back to Houston.
Rubio, who launched Sept. 21, 2022, became the new record holder for the longest single United States spaceflight on Sept. 11, after he surpassed the former record of 355 days held by NASA astronaut Mark Vande Hei.
The crewmates were originally scheduled to return to Earth in March, but the Soyuz MS-22 spacecraft they launched on experienced a coolant leak that resulted in an extension of their mission.
Mission coverage is as follows (all times Eastern):
12 a.m. – Farewells and hatch closing coverage begins (hatch closing scheduled at 12:20 a.m.)
3:30 a.m. – Undocking coverage begins (undocking scheduled at 3:55 a.m.)
6 a.m. – Deorbit burn and landing coverage begins (deorbit burn scheduled at 6:24 a.m.; landing scheduled at 7:17 a.m.)
Keep up with the International Space Station, its research, and crew at: https://www.nasa.gov/station
Image:  NASA astronaut and Expedition 69 Flight Engineer Frank Rubio poses for a portrait while working inside the International Space Station's Destiny laboratory module. Credits: NASA.