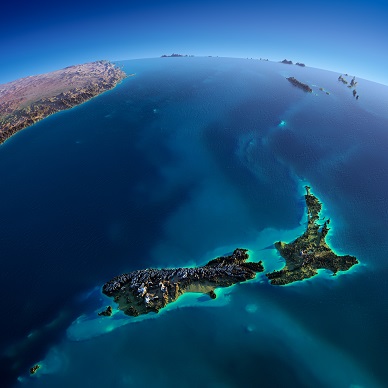 Written by staff writer.
Recent extreme weather events in New Zealand is causing that country's government to have second thoughts about their longstanding limited financial commitment to the space sector.
Speaking at the recent Andy Thomas Space Forum event in Adelaide, the Head of the New Zealand Space Agency (NZSA), Iain Cossar, said that his country's space sector had begun purely as a commercial proposition, with limited investment from the government. But he says that is now changing.
"Cyclone Gabrielle on our North Island has exposed a gap in our remote sensing capabilities, and government agencies across New Zealand are now looking to space-based capabilities to fill that gap," he said. On the day he spoke in Adelaide, another severe downpour was buffeting part of New Zealand. "It's like confirmation that Earth observation data and sharing is a real opportunity for this country."
A category three cyclone, Gabrielle caused havoc on New Zealand's North Island earlier this year. It is the costliest cyclone on record in the Southwest Pacific, causing at least NZD14 billion in damage and killing 11 people.
The New Zealand government established the NZSA in 2016, wanting an agency and space regime that managed sensitive technologies, supported space sector development, and engaged with international partners. But two years later, the government's budgeted spend on the space sector in the 2018/19 financial year was just NZD3.8 million, with a further NZD6.02 million found for space research. Despite that, the space sector generated around NZD1.75 billion in direct and indirect economic benefits for New Zealand that year.
Cossar said that without a strong tradition of governmental interest in space in New Zealand, the NZSA quickly formed partnerships with agencies overseas, including NASA. "It's those strong partnerships that we built that sustain the industry here in New Zealand," he said. But he also says interest from the New Zealand Government is growing.
In September 2022, the New Zealand government launched a review of its space policy and its role in the country's economic, national security, regulatory, international and environmental interests. Before this year's run of adverse weather events, the government's interest focused on regulating the market, balancing high-profile launch ventures such as Rocket Lab while safeguarding security and environmental concerns.
There was less interest in Earth observation data capabilities and the role that could play in planning for extreme weather events. Cyclone Gabrielle caused a shift in priorities. According to Cossar, it opened the government's eyes to the role data from satellites can play in monitoring and managing weather.
While the New Zealand government has yet to provide additional funding or make any significant policy announcements regarding boosting the country's Earth observation capabilities, Cossar suggests change may be afoot, and government may contribute dollars, in addition to policy, to the space sector. That, in turn, opens opportunities for the NZSA.
"The space agency has deep connections into the science community," Cossar said. "We think we have a lot to offer across a range of niche opportunities. We would be very keen to partner with other like-minded countries and agencies to share opportunities, to share data, to better understand the climate, climate change, and the impact that these events are having.