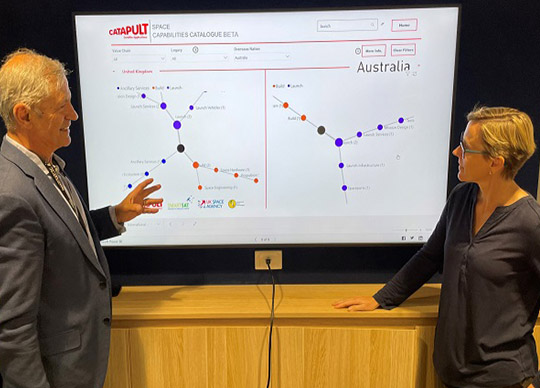 Satellite Applications Catapult, SmartSat Cooperative Research Centre (CRC), and the UK Government have announced a new space supply chain mapping tool to showcase the United Kingdom (UK) and Australian space sector capabilities.
Enabled by the Space Bridge, an alliance between the UK and Australia that enhances cooperation across both nations to boost respective space industries, this mapping tool will also identify opportunities for collaboration and growth.
The new space and supply chain mapping tool has been built within the existing UK Space Capabilities Catalogue (UKSCC) and extended to develop an International Comparison Dashboard with a current focus on Australia.
To mark the second anniversary of the Space Bridge, the Dashboard will be launched at the 2023 Avalon Airshow at the UK Pavilion (stand 1G34, Hall 1) on Wednesday, 1st March at 09:15 am, alongside representatives from the UK Government, Satellite Applications Catapult, and SmartSat CRC.
The Dashboard aims to identify potential gaps in either market that could be addressed by foreign direct investment and export opportunities.
It is also designed to stimulate new opportunities for organisations, industries, and researchers across nations to collaborate on potential projects and programmes and to attract international customers and end-users.
This project was supported by the UK Space Agency (UKSA), with matched funding for Supply Chain Tagging from the Satellite Applications Catapult and SmartSat CRC. During the initial pilot, the Satellite Applications Catapult catalogued 240 Australian organisations, which represent a significant portion of the Australian space ecosystem.
During the last two years, this partnership has resulted in several exciting initiatives which include five joint research projects, funded by SmartSat CRC, the Satellite Applications Catapult, and the UK Science and Innovation Network, with the support of Austrade and the Australian Space Agency; workshops for SMEs on trade policy, export regulations, finance, and tax; and several roadshows to promote sector capabilities.
Stuart Naylor, Director of International Engagement at the Satellite Applications Catapult, said: "We envisage this tool enabling stakeholders across the UK and Australia to see where there are opportunities for collaboration, and to strengthen ties between our respective space industries, governments, and end users by identifying growth areas. Innovation and collaboration across nations are a vital part of future economic growth and a key element of our work at the Satellite Applications Catapult. This new and exciting initiative begins the process of providing a quantitative evidence base for decision making to enable growth."
Andy Koronios, CEO of SmartSat CRC, said: "We are very excited to work with Satellite Applications Catapult to help develop this new capability. It symbolises our strong commitment in delivering next-generation technologies and innovative projects that will contribute to and support the goal of both Australia and the UK in accelerating our space industries. This also embarks an exciting chapter for both nations in uncovering new, major growth opportunities for several key sectors including the supply chain, driving broader economic gains, as well as boosting our alliances that will be valuable in achieving our long-term objectives."
Paul Bate, CEO of UK Space Agency, said: "We're launching this new capability, in partnership with the Satellite Applications Catapult and SmartSat CRC, to identify areas for growth and opportunities for collaboration with our Australian colleagues. This mapping tool is another great example of the UK-Australia Space Bridge unlocking innovation, promoting the exchange of knowledge, and bolstering partnerships across the world. Together we can catalyse investment and maximise the vast potential of our growing space sectors."
Vicki Treadell, UK High Commissioner to Australia, said: "This is yet another clear example of the great shared focus and investment in scientific innovation facilitated by our Space Bridge. Just as space exploration carves a celestial path through the heavens, this new mapping tool will allow us to chart exciting new opportunities for collaboration between government and industry."