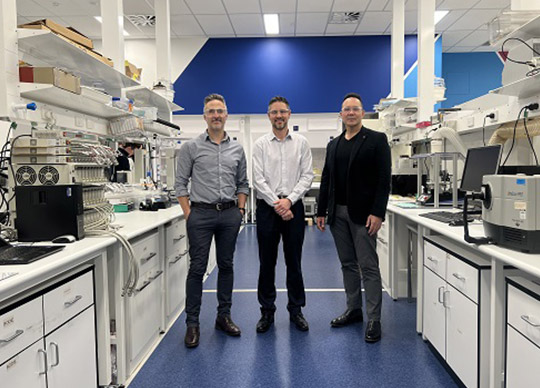 In the deepest of space, in a lunar nightfall, spacecraft need reliable and consistent power for the duration of the mission to be able to operate in the most extreme of environments.
In a new partnership between iLAuNCH Trailblazer universities, the University of South Australia (UniSA) and the University of Southern Queensland (UniSQ), Adelaide-based clean energy technology company entX is set to change the landscape of sustainable energy solutions that will power space missions of the future.
The sustainable energy project is twofold for iLAuNCH. The first project will see UniSA and entX focus on the flow of thermal energy to ensure spacecraft can survive multiple nights in temperatures that can reach down to -180°C on the dark side of the lunar surface. The second project with UniSQ will look to commercialise long-term power sources to spacecraft where solar energy cannot be relied upon.
"We are thrilled to announce entX as another Trailblazer partner and program for the space industry," said iLAuNCH Trailblazer Executive Director, Darin Lovett.
"Together we are working to commercialise two truly disruptive space energy technologies that will pave the way for global exports and give Australia a sovereign capability to excel on the world stage."
As Australia is becoming a global participant in lunar-based payload missions, there is an emerging need for sovereign capability to support applications that will need to survive a lunar night cycle of 14 days at temperatures approaching -180°C.
In the first project with UniSA, entX will prototype a Radioisotope Heater Unit (RHU) supported technology platform, to provide thermal management for multiple lunar night survival. The RHU will possess a half-life that is more sustainable, and ideal for shorter duration missions (1-5 years) such as small payloads that will fly to the Moon on the emerging series of commercial landers.
RHUs have been used in the global space industry for many years to provide internal heat to keep electronics warm in extreme environments such as lunar night and deep space, but they typically use plutonium which has significant safety concerns as well as a difficult regulatory pathway to launch. This project will utilise entX's safer, more environmentally friendly beta-emitting radioisotope which will have a significantly simpler regulatory pathway to launch.
In the second project, entX will develop high-performance thermoelectric materials and components for advanced, high efficiency Radioisotope Thermoelectric Generator (RTG) technology. This development will allow for more reliable and consistent electrical power for deep space probes, contributing to scientific knowledge and advancing our understanding of thermoelectric performance.
RTGs are often the only viable option for providing long-term power to probes and spacecraft, and further development will have significant benefits for space exploration and related industries.
"Embarking on an exciting journey towards lunar occupation in the upcoming decades, securing a reliable source of thermal energy solutions is paramount," said entX General Manager Defence and Space, Scott Edwards.
"Robust RHUs and RTGs will play a pivotal role in ensuring the safety and effectiveness of lunar surface exploration, including the enigmatic dark side of the moon and the depths of lunar craters. Moreover, extending asset availability during lunar nights by leveraging advanced energy technologies creates a step change in the amounts of data collected, processed, and transmitted, leading to a maximized mission ROI."