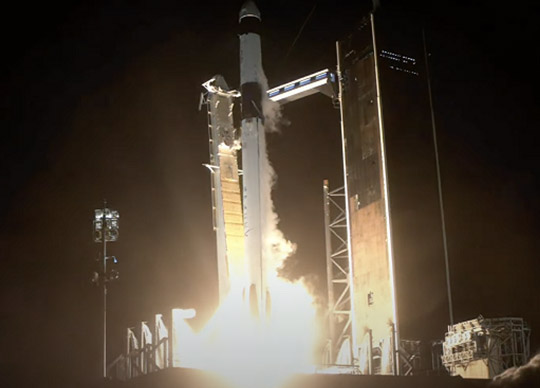 An international crew of four representing four countries is in orbit following a successful launch to the International Space Station at 3:27 a.m. EDT Saturday, Aug. 26, from Launch Complex 39A at NASA's Kennedy Space Center in Florida. The agency's SpaceX Crew-7 mission is the seventh commercial crew rotation mission for NASA.
A SpaceX Falcon 9 rocket launched the Dragon spacecraft into orbit carrying NASA astronaut Jasmin Moghbeli, ESA (European Space Agency) astronaut Andreas Mogensen, JAXA (Japan Aerospace Exploration Agency) astronaut Satoshi Furukawa, and Roscosmos cosmonaut Konstantin Borisov, for a science expedition aboard the orbital laboratory.
"Crew-7 is a shining example of the power of both American ingenuity and what we can accomplish when we work together," said NASA Administrator Bill Nelson. "Aboard station, the crew will conduct more than 200 science experiments and technology demonstrations to prepare for missions to the Moon, Mars, and beyond, all while benefitting humanity on Earth. By partnering with countries around the world, NASA is engaging the best scientific minds to enable our bold missions, and it's clear that we can do more – and we can learn more – when we work together."
During Dragon's flight, SpaceX will monitor a series of automatic spacecraft maneuvers from its mission control center in Hawthorne, California, and NASA teams will monitor space station operations throughout the flight from the Mission Control Center at the agency's Johnson Space Center in Houston.
Named Endurance, the Dragon spacecraft will dock autonomously to the space-facing port of the station's Harmony module at 8:39 a.m. Sunday, Aug. 27. NASA Television, the NASA app, and the agency's website will provide live coverage of docking and hatch opening. NASA also will cover the welcome remarks by crew aboard the orbital outpost at 11:30 a.m.
Crew-7 will join the space station's Expedition 69 crew of NASA astronauts Stephen Bowen, Woody Hoburg, and Frank Rubio, as well as UAE (United Arab Emirates) astronaut Sultan Alneyadi, and Roscosmos cosmonauts Sergey Prokopyev, Dmitri Petelin, and Andrey Fedyaev. For a short time, the number of crew aboard the space station will increase to 11 until Crew-6 members Bowen, Hoburg, Alneyadi, and Fedyaev return to Earth a few days later.
Crew-7 will conduct new scientific research to benefit humanity on Earth and prepare for human exploration beyond low Earth orbit. Experiments include the collection of microbial samples from the exterior of the space station, the first study of human response to different spaceflight durations, and an investigation of the physiological aspects of astronauts' sleep. These are just some of the science experiments and technology demonstrations that will take place during their mission.
"The International Space Station is an incredible science and technology platform that requires people from all around the world to maintain and maximize its benefits to people on Earth," said Ken Bowersox, associate administrator, Space Operations Mission Directorate at NASA Headquarters in Washington. "It's great seeing Crew-7 launch with four crew members representing four countries who will live and work on humanity's home in space as we continue the nearly 23 years of a continuous human presence aboard the microgravity laboratory."
The Crew-7 mission enables NASA to maximize use of the space station, where astronauts testing technologies, performing science, and developing the skills needed to operate future commercial destinations in low Earth orbit and explore farther from Earth. Research conducted aboard the space station provides benefits for people on Earth and paves the way for future long-duration trips to the Moon through NASA's Artemis missions.
Meet Crew-7
This is Moghbeli's first trip into space since her selection as a NASA astronaut in 2017. The New York native earned a bachelor's degree in aerospace engineering with information technology at the Massachusetts Institute of Technology in Cambridge, and a Master of Science in aerospace engineering from the Naval Postgraduate School in Monterey, California. Moghbeli, a helicopter and Marine Corps test pilot, has more than 150 combat missions and 2,000 hours of flight time in over 25 different aircraft. She also is a graduate of the U.S. Naval Test Pilot School in Patuxent River, Maryland. As mission commander, she is responsible for all phases of flight, from launch to re-entry. She will serve as an Expedition 69/70 flight engineer aboard the station. Follow @astrojaws on X.
Mogensen was selected as an ESA astronaut in 2009 and became the first Danish citizen in space after launching aboard a Soyuz for a 10-day mission to the space station in 2015. Mogensen is from Copenhagen, Denmark. He completed undergraduate studies and received a master's degree in aeronautical engineering from Imperial College London in England before gaining his doctorate in aerospace engineering from the University of Texas at Austin. Mogensen has since served as a crew member for NASA Extreme Environment Mission Operations undersea missions 17 and 19. Mogensen was the European astronaut liaison officer at NASA Johnson from 2016 to 2022, working as a capsule communicator for astronauts aboard the station and as ground support for spacewalks. As the pilot on Crew-7, he is responsible for spacecraft systems and performance aboard the station, he will serve as an Expedition 69 flight engineer and Expedition 70 commander. Follow @astro_andreas on X.
Furukawa is making his second trip to space, having spent 165 days aboard the space station as part of Expeditions 28 and 29 in 2011. Furukawa is from Kanagawa, Japan, and was selected as a JAXA astronaut in 1999. He is a physician and received his medical degree from the University of Tokyo, and later a doctorate in medical science from the same university. Furukawa served as a crew member on the 13th NEEMO mission, and later, was appointed head of JAXA's Space Biomedical Research Group. Aboard the station, he will become a flight engineer for Expedition 69/70. Follow @astro_satoshi on X.
Borisov is making his first trip to space and will serve as a mission specialist, working to monitor the spacecraft during the dynamic launch and entry phases of flight. He entered the Roscosmos Cosmonaut Corps as a test cosmonaut candidate in 2018 and will serve as a flight engineer for Expedition 69/70.
Learn more about NASA's SpaceX Crew-7 mission and Commercial Crew Program at: https://www.nasa.gov/commercialcrew