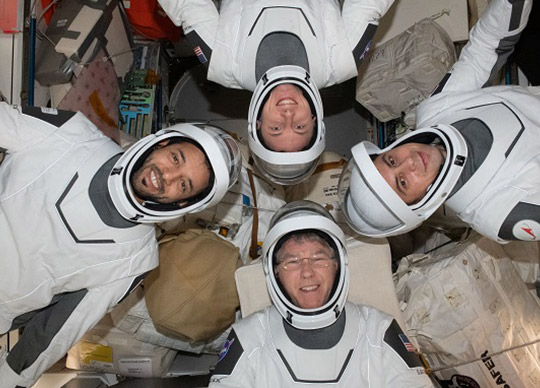 NASA will provide coverage of the agency's SpaceX Crew-6 mission return to Earth from the International Space Station, beginning with hatch closure coverage live at 5 a.m. EDT on Sunday, Sept. 3. The SpaceX Dragon spacecraft is scheduled to undock from the space station no earlier than 7:05 a.m., to begin the journey home.
The return and related activities will stream live on NASA Television, the NASA app, and the agency's website at: https://www.nasa.gov/live
NASA and SpaceX are targeting 12:17 a.m. on Monday, Sept. 4, for a splashdown that will wrap up a nearly six-month science mission for NASA astronauts Stephen Bowen and Woody Hoburg, UAE (United Arab Emirates) astronaut Sultan Alneyadi, and Roscosmos cosmonaut Andrey Fedyaev.
Following the conclusion of Dragon's departure from the station, NASA coverage of Crew-6's return will continue audio only, and full coverage on NASA TV will resume at the start of the splashdown broadcast. Real-time audio between Crew-6 and flight controllers on NASA's Mission Audio stream will re main available.
The Dragon spacecraft, named Endeavour, will undock, depart the space station, and return important and time-sensitive research to Earth. The spacecraft will splash down at one of seven targeted landing zones in the Atlantic Ocean or Gulf of Mexico off the coast of Florida.
NASA's SpaceX Crew-6 return coverage is as follows (all times Eastern and subject to change due to weather and station operations):
Sunday, Sept. 3
5 a.m. – Hatch closure coverage begins for 5:20 a.m. hatch closing
6:45 a.m. – Undocking coverage begins for 7:05 a.m. undocking
11 p.m. – Coverage begins for deorbit burn, entry, and splashdown off the coast of Florida
Monday, Sept. 4
12:17 a.m. – Splashdown
2 a.m. – Return to Earth media teleconference from NASA's Kennedy Space Center in Florida with the following participants:
Steve Stich, manager, Commercial Crew Program, NASA Kennedy
Joel Montalbano, manager, International Space Station, NASA's Johnson Space Center in Houston
Benji Reed, senior director, Human Spaceflight Programs, SpaceX
Adnan Alrais, assistant director general space operations and exploration sector, Mission Manager, UAE Astronaut Programme
See full mission coverage, NASA's commercial crew blog, and more information about the mission at: https://www.nasa.gov/commercialcrew