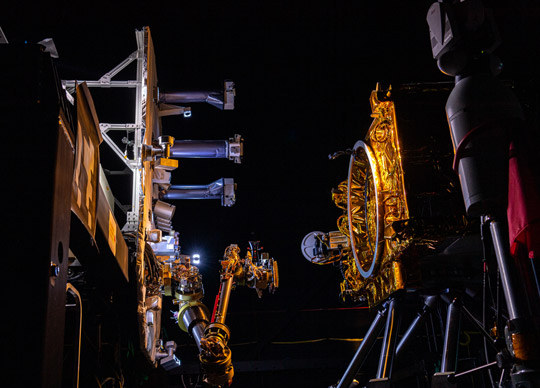 NASA announced Wednesday a new consortium focused on making in-space servicing, assembly, and manufacturing (ISAM) capabilities a routine part of space architectures and mission lifecycles.
Through a range of capabilities, ISAM can enable new mission paradigms and extend the life of spacecraft. In-space servicing encompasses activities including spacecraft repair, refueling, relocation, and retrofitting, while assembly and manufacturing includes abilities like 3D printing and assembling components in space. Together, these capacities can enable a more sustainable, robust, and enduring space ecosystem.
NASA's Space Technology Mission Directorate (STMD) formulated and funds the COnsortium for Space Mobility and ISAM Capabilities (COSMIC). In February 2023, the agency selected The Aerospace Corporation to operate the group. A kickoff meeting is planned for fall 2023.
"We're looking to foster a nationwide alliance across government, industry, nonprofit research institutions, and academia to ensure the United States is the global leader in ISAM," said Jim Reuter, associate administrator for STMD at NASA Headquarters in Washington. "This new consortium provides a place for all parties to coordinate and collaborate on capability development, business cases, and mission applications."
The consortium aligns with the ISAM National Strategy and National ISAM Implementation Plan released in 2022, providing an opportunity for collaboration among government, industry, and academia to pursue common goals in ISAM capability development.
"NASA, government agencies, and industry have invested in robotic ISAM technologies for decades," said STMD's Technology Demonstrations Director Trudy Kortes. "Still, it is rare for modern satellites to be designed and built with things like grappling, refueling, and other robotic repairs in mind. We want to change that."
The consortium builds upon technology maturation and demonstration efforts across sectors, including NASA's On-Orbit Servicing, Assembly, and Manufacturing missions, the joint Defense Aerospace Projects Research Agency, and SpaceLogistics effort Robotic Servicing of Geostationary Satellites/Mission Robotic Vehicle (RSGS/MRV), SpaceLogistics' Mission Extension Vehicle (MEV) and other related efforts.
Organizations interested in participating in COSMIC can learn more and sign up for advance notice of future meetings on the consortium's website: cosmicspace.org