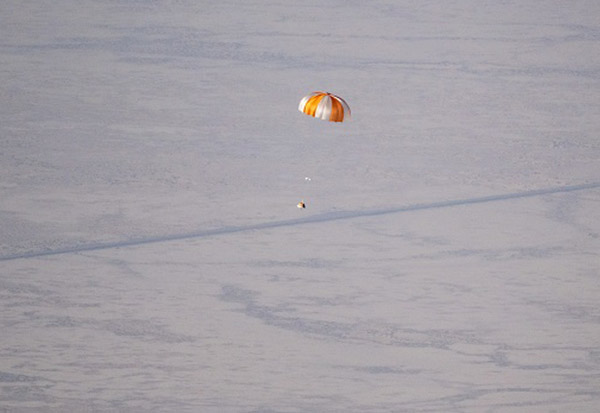 The first asteroid sample collected in space by NASA will arrive on Earth Sunday, Sept. 24, and there are multiple events leading up to its landing.
NASA's live coverage of the OSIRIS-REx (Origins, Spectral Interpretation, Resource Identification and Security – Regolith Explorer) capsule landing starts at 10 a.m. EDT (8 a.m. MDT) and will air on NASA TV, the NASA app, and the agency's website. Watch online at: https://www.nasa.gov/live
In addition to the English broadcast, NASA will stream coverage of the landing beginning at 10 a.m. EDT (8 a.m. MDT) in Spanish on X, Facebook, and YouTube.
Postlanding news conference
A post-landing news conference will occur about 5 p.m. EDT (3 p.m. MDT), when the sample capsule arrives at a temporary clean room on the military range. Coverage will air on NASA TV, the NASA app, and the agency's website.
To submit questions during the briefing, media must send their full name, affiliation, email address, and phone number no later than two hours before the start of the call to Alana Johnson at: alana.r.johnson@nasa.gov.
To successfully deliver a sample from the near-Earth asteroid Bennu, spacecraft operators need to ensure OSIRIS-REx travels at the right speed and direction to release the sample capsule into the atmosphere, landing it on the U.S. Department of Defense's Utah Test and Training Range. Mission leadership will discuss the results of the spacecraft's final trajectory maneuvers, and expectations for the capsule's entry, descent, and landing, and plans for recovery operations in Utah's western desert.
Audio of the call will stream live on NASA's website.
Participants include:
Lori Glaze, director, Planetary Sciences Division, NASA Headquarters, Washington
Rich Burns, OSIRIS-REx project manager, NASA's Goddard Space Flight Center, Greenbelt, Maryland
Sandra Freund, OSIRIS-REx program manager, Lockheed Martin
Nicole Lunning, OSIRIS-REx curation lead, NASA's Johnson Space Center, Houston
Dante Lauretta, OSIRIS-REx principal investigator, University of Arizona
NASA's Goddard Space Flight Center in Greenbelt, Maryland, provides overall mission management, systems engineering, and the safety and mission assurance for OSIRIS-REx. Dante Lauretta of the University of Arizona, Tucson, is the principal investigator.
The university leads the science team and the mission's science observation planning and data processing.
Lockheed Martin Space in Littleton, Colorado, built the spacecraft and provides flight operations. Goddard and KinetX Aerospace are responsible for navigating the OSIRIS-REx spacecraft.
Curation for OSIRIS-REx, including processing the sample when it arrives on Earth, will take place at NASA's Johnson Space Center in Houston.
International partnerships on this mission include the OSIRIS-REx Laser Altimeter instrument from CSA (Canadian Space Agency) and asteroid sample science collaboration with JAXA's (Japan Aerospace Exploration Agency) Hayabusa2 mission.
OSIRIS-REx is the third mission in NASA's New Frontiers Program, managed by NASA's Marshall Space Flight Center in Huntsville, Alabama, for the agency's Science Mission Directorate in Washington.
To learn more about the asteroid sample recovery mission visit: https://www.nasa.gov/osiris-rex