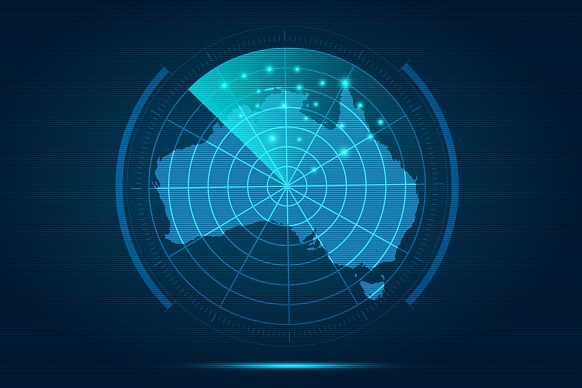 Written by staff writer.
The Australian government has accepted one defence space domain recommendation from the 2023 Defence Strategic Review released earlier this week and accepted two others in principle. The review made three space domain recommendations to aid a pivot to a more focused and integrated Australian Defence Force (ADF).
"Defence's space capability must be optimized for capability assurance and communications provision," the report stated before saying that Australia's Defence Space Command should be moved into the Joint Capabilities Group (JCG) within a matter of months. The review also called for a centralized space domain capacity development and management function and a concrete strategy to build and sustain an ADF-trained space workforce.
But the review concluded "at this stage," there is no need to create a separate space force akin to what the United States established in 2019. But the review did recommend that Space Command become a command within the JCG, be granted a separate funding line, and have the authority to manage it.
The ADF established Australia's Defence Space Command in early 2022 with several immediate goals, including developing and advocating for space-specific outcomes, establishing an organization to train a space workforce and participating in strategic space planning and policy making. However, two months later, then Defence Minister Peter Dutton hosed down oversized expectations during a speech marking the stand up of the Space Command, saying it would be a "modest" organization compared to what many Allies have.
One year later, Defence Space Commander Air Vice-Marshal Catherine Roberts said despite that modesty, Australia's Space Command had achieved some short-term outcomes, including forming the ADF's first Joint Space Unit, No.1 Space Surveillance Unit, based at RAAF Edinburgh, achieving initial operational capability for the space segment, and establishing ground infrastructure for a protected military SATCOM capability.
"These initiatives are part of the operating concept and space architecture that Defence Space Command has been developing in our first year with our allies and international partners," said Roberts.
Along with land, sea, air, and cyber, the Strategic Defence Review clearly stated that space had a role as one of five defence domains. It said the ADF needs to have a whole-of-government and whole-of-nation approach to developing the defence space domain while recognizing that developing sovereign capabilities must be offset by cost and considering what partners like the United States can provide.
"Commercial capabilities will also play an increasingly important role in complementing and augmenting Defence's Space Command structure," the report said.
The Australian government has agreed to accept the review's recommendation to move the Defence Space Command into the JCG while agreeing "in principle" to a centralized management function and space domain capability development and setting up a method to train, build, and sustain a defence space workforce.
The government says it fully supports developing a more integrated and capable ADF across the five domains, including space. The government added that it will further develop and consider the agreed to "in principle" recommendations as part of the 2024 National Defence Strategy.