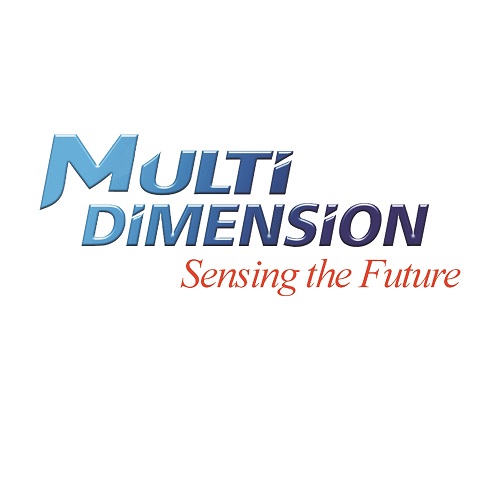 TMR Sensor Technology Achieves 3D Magnetic Field Measurement with Ultra-low Noise, Ultra-high Sensitivity in a C ompact Form Factor for High-precision Industrial or Biomedical Sensor Applications
MultiDimension Technology (MDT) announced TMR23xx series, a new lineup of three-axis high-performance Tunneling Magnetoresistance (TMR) linear magnetic field sensors. They are designed for a variety of application requirements, ranging from large dynamic range at +/-500 Oe, to ultra-high sensitivity at 100mV/V/Oe, along with excellent noise performance as low as 150pT /rtHz at 1Hz, in a compact LGA package as small as 4x4x2.5mm. They are best suited for high-end industrial sensor applications, biomedical sensor applications, precision measurement of magnetic field, high-precision speed and position sensing, geomagnetic sensing, metal object detection, non-destructive testing (NDT), magnetic communication, 3D magnetic imaging, etc.
"MDT's new three-axis high-performance TMR magnetic sensors offer great versatility to many high-end applications that have already benefited from MDT's TMR sensor technology, with outstanding low-noise, low-power and high-sensitivity performance that cannot be matched by any other semiconductor-based magnetic sensors, including Hall Effect, AMR (Anisotropic Magnetoresistance) and GMR (Giant Magnetoresistance). The new TMR23xx sensors integrate three high-performance TMR sensing devices for the X/Y/Z three-dimensional magnetic field measurement in a compact package or module. They provide the best option for our customers' return-of-investment with small size, precise positioning of the X/Y/Z directions, reduced circuit complexity, and improved cost-effectiveness. Based on MDT's in-depth expertise in design and manufacturing of TMR sensors, we can also offer custom designs of three-axis sensors that are specifically tailored to customer requirements," said Dr. Song Xue , President and CEO of MultiDimension Technology.
Highlights of the TMR23xx Series
Part Number
Supply Voltage (V)
Sensitivity (mV/V/Oe)
Resistance (kOhm)
Dynamic Range (Oe)
Noise (nT/rtHz @1Hz)
Form Factor
TMR2301
0-7
1
15
+/-500
100
LGA12L(4x4x2.5mm)
TMR2303
3
30
+/-150
30
LGA12L(5x5x2.5mm)
TMR2305
25
9
+/-10
2
LGA12L(5x5x2.5mm)
TMR2307
8
1.5
+/-30
1
LGA12L(7x7x2.5mm)
TMR2309
100
15
+/-8
0.15
module(9.5×9.5x6mm)
MDT is the first volume supplier of TMR sensors with multiple product portfolios. In addition to the TMR linear magnetic field sensors, MDT offers TMR magnetic switches , TMR angle sensors , TMR gear tooth sensors , and TMR magnetic image sensors . MDT also provides comprehensive service options including custom designs, foundry service, and IP licensing for TMR/GMR/AMR sensors.
About MDT
MultiDimension Technology was founded in 2010 in Zhangjiagang, Jiangsu Province , China , with branch offices in Shanghai , Chengdu , Ningbo, China and San Jose, Calif. , USA. MDT has developed a unique intellectual property portfolio, and state-of-the-art manufacturing capabilities that can support volume production of high-performance, low-cost TMR magnetic sensors to satisfy the most demanding application needs. Led by its core management team of elite experts and veterans in magnetic sensor technology and engineering services, MDT is committed to creating added value for its customers and ensuring their success. For more information about MDT please visit http://www.multidimensiontech.com .