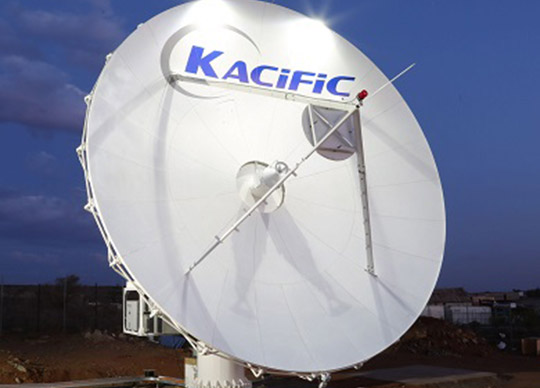 Kacific Broadband Satellites Group (Kacific) and ST Engineering iDirect have reaffirmed their long-term technology partnership through deep cooperation on the ground systems infrastructure for Kacific's fleet of satellites.
Riding on the success of Kacific1 which has provided satellite internet access to both people and governments across Southeast Asia and the Pacific, Singapore-based broadband satellite operator Kacific is now working to expand its capabilities and coverage, adding capacity manyfold with services throughout the region. As a first step, the company's next-generation satellite aims to address the soaring demand for satellite connectivity in its existing Southeast Asian markets, and extend its reach further into Southeast Asia, Central and Western Asia, and Eastern Africa. The International Data Corporation (IDC) suggests that satellite bandwidth sold across the Asia-Pacific would reach 335.6 Gbps by 2026, with an estimated 1 billion unconnected people in Kacific's areas of interest, representing a total addressable market of US$8 billion.
The upcoming Kacific next-generation satellites are planned to be reconfigurable, with flexible bandwidth allocation and high spectral efficiency. ST Engineering iDirect will match the space segment with a new generation of fully scalable, distributed ground systems that leverage standards-based, automated resource and service orchestration to enable dynamic allocation of satellite resources. Its next-generation ground system will enable extremely flexible services that align with new applications and changing customer demands, and facilitate the delivery of ultra-high-throughput services that can meet the demands of the most challenging applications, from community access to business networks.
"Through Kacific1, we have successfully broken ground to democratize satellite broadband in the Asia-Pacific region," says Christian Patouraux, Kacific CEO. "New generation software-defined-satellite technologies, supported by a comprehensive ST Engineering iDirect-run ground system, set the stage for successful new broadband satellite programs, meeting unabated demand in our existing markets and opening up new opportunities."
"We are proud to extend our technology partnership with Kacific and enable them to deliver the next generation of broadband satellite connectivity that will continue to empower communities across the Asia-Pacific region," said John Arnold, Regional Vice President, ST Engineering iDirect. "We are looking forward to this next chapter in Kacific's journey, and evolving with their technological requirements to provide the highly efficient, agile and cost-effective connectivity that their customers need."