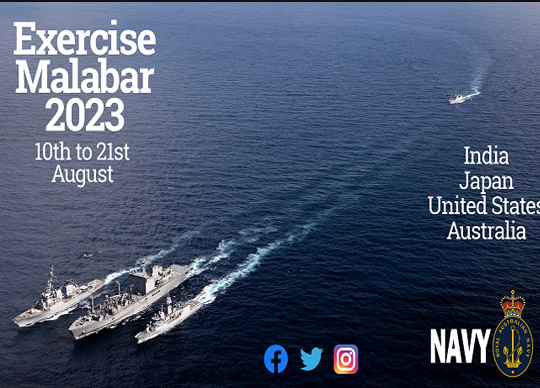 Written by staff writer.
More than 300 Chinese satellites have conducted over 3,000 overflights of defence exercises now underway off Australia's east coast.
The satellite surveillance, reported by the Australian Broadcasting Corporation (ABC), was first detected by Canberra-based defence company EOS Space Systems in July. At the time, they tracked the high-orbit Shiyan 12-01 satellite moving into position over northern Australia, while the Shiyan-17 and 23 satellites also began moving towards Australia's east coast.
Since then, hundreds of smaller Chinese low-orbit satellites have completed thousands of overflights, primarily focusing on the Sydney Harbour area, where Australia and Exercise Malabar participants, the United States, India, and Japan have warships positioned.
Described by the Australian government as an important Indo-Pacific military exercise, Exercise Malabar is running in Sydney Harbour and along the east coast between August 10 and 22, 2023. Australian assets taking part include the Royal Australian Navy's HMAS Brisbane and HMAS Choules, and Royal Australian Air Force F-35A Lightning IIs, Hawk 127s, and P-8A Poseidon aircraft. The training underway includes air defence and anti-submarine exercises, aviation, communications, and replenishment at sea between ships.
"We've been collecting optical surveillance data on Earth observing Chinese satellites during the Talisman Sabre and Malabar exercises," James Bennett, executive vice president of space systems at EOS, told the ABC. "They can glean military intelligence on what the capabilities and equipment are, as well as processes of ground military activities; they can use this to drive a fair bit of intelligence on military operations in Australia."
Confirming the number of satellites used and the overflights conducted, Bennett said EOS analysed data collected from telescopes outside Canberra and Learmouth to identify the satellites and their flight paths.
The Australian Catholic University's Professor Andrew O'Neil says there are two reasons for the Chinese activity. "China has been significantly ramping up its satellite capabilities, spearheaded by their Long March space launch vehicle launches that can launch multiple satellites into orbit in one go." But he adds that these ostensibly civilian satellite launches also have a dual military use.
O'Neil says there are various reasons why the Chinese are interested in Exercise Malabar. He said they would be keen to analyse the behaviour of the US and its allies and how they wargamed and conducted simulated combat scenarios. In addition, O'Neil suggested the Chinese would scrutinise the telemetry of the military platforms used, and much of that relied on electronic intelligence gathering.
The professor says the Chinese satellite activity highlights how important space is becoming in the defence domain. "Increasingly, the Chinese are very much focused on achieving a kind of asymmetric capability where they don't have the same number of satellites as the US, but they develop capabilities that can undermine that US quantitative dominance, particularly regarding wartime scenarios."
In contrast with Chinese and US capabilities, Australia has no sovereign satellite capabilities. In June, the incumbent government scrapped the Morrison Government's plan to put four observation data satellites into space under the National Space Mission for Earth Observation program.
The Australian Defence Force says it is aware of the Chinese surveillance and has implemented measures to "safeguard the information security of Australian and participating forces."
Image credit: www.navy.gov.au