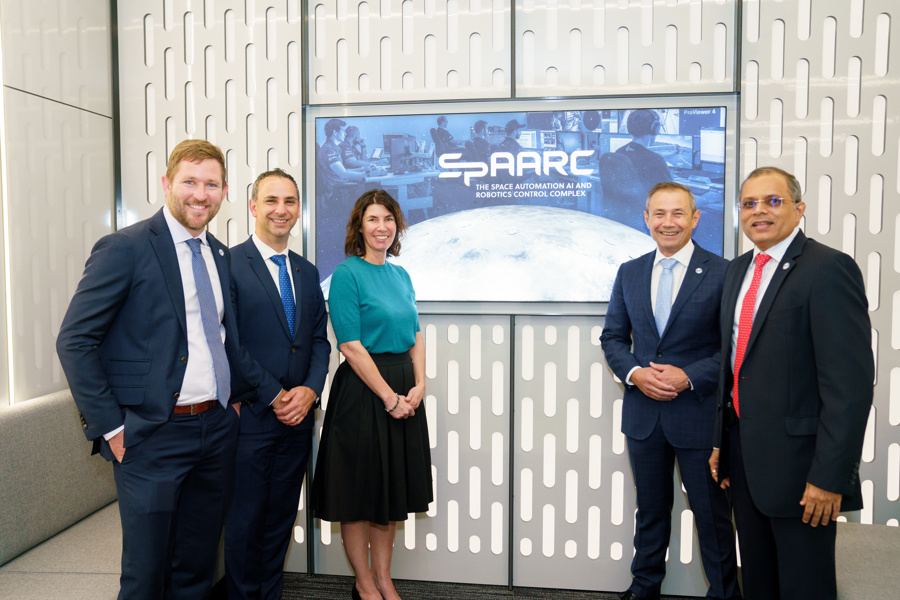 By Staff Writer.
Global geo-data and exploration company Fugro has opened its largest remote operations centre to date, a multi-million-dollar multi-user facility in Perth's central business district called the Australian Space Automation, Artificial Intelligence and Robotics Control Complex, or SpAARC.
The opening on Tuesday, November 2, was attended by WA Deputy Premier Roger Cook and the head of the Australian Space Agency (ASA), Enrico Palermo. SpAARC makes available a world-leading commercial facility where users ranging from small sole operators in the space sector to government and defence agencies can demonstrate and test remote robotic capabilities to deploy into space and other remote environments.
"The opening itself is a milestone," said Dawn McIntosh, Space Systems Director at Fugro Australia. "We're building out a capability so you can come in and we've got content you can build off of, or you can do your own pipeline and end-to-end solution. The breadth of the type of mission you can bring in isn't dictated by the facility itself."
Funded in part by the Australian Government which contributed AU$4.5 million via the ASA's Space Infrastructure Fund, along with a further AU$3.5 million contribution from the WA Government, SpAARC is already attracting plenty of interest from space sector players, including some prominent US-based companies developing lunar landing machines.
"We've just taken an international satellite company through the facility," said SpAARC Director, Samuel Forbes. "They were blown away by what we've developed. There's definitely interest in this. We are putting something out to market that doesn't yet exist, and we're attempting to reshape the market. There's going to be a lot more work to do to bring onboard more customers, whether they are government or private, but we sure are getting the right reaction."
ASA's Palermo says that Australia already punches well above its weight in large-scale remote asset management and Earth-based robotics.
"By investing in infrastructure like SpAARC, the Agency is creating a unique opportunity for our organisations to grow into new global markets," he said.
The WA Government, which has been supportive of Perth's emerging space sector enterprises, is eyeing opportunities to build on the state's already impressive mining and resource sector-developed remote operations capabilities and to flip that into the multi-billion dollar space sector.
"Leveraging WA's high-tech remote operations sector, SpAARC will capitalise on our significant space infrastructure and capabilities to position WA as the Southern Hemisphere's premier hub for space operations and exploration," said Cook.
SpAARC allows users of remote space vehicles, robotic systems, and planetary exploration systems to run real-time operations.
SpAARC says it will provide a universal data interface that can integrate and trial human-robot interfaces, software, simulators and visualisation equipment in one place. Right now, SpAARC doesn't have much in the way of competition in Australia or elsewhere. While Forbes says this gives the facility an early mover advantage, he also acknowledges Fugro took a leap of faith in building the facility and that its success will only come from a lot of hard work.
Image: Left to right – Sam Forbes (Fugro's SpAARC Director), Enrico Palermo (Head of the Australian Space Agency), Dawn McIntosh (Fugro's Space Systems Director), Roger Cook (WA's Deputy Premier) and Amar Umap (Fugro Group Director Asia Pacific) at the official opening of SpAARC.