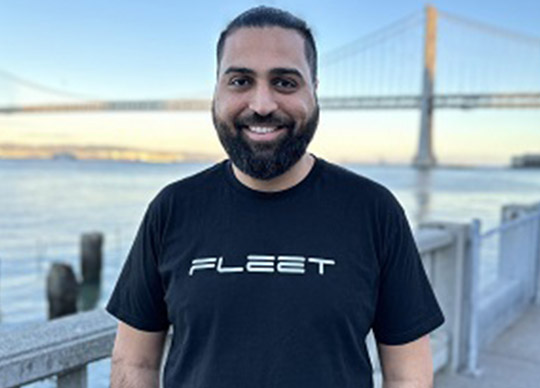 Fleet Space has announced the appointment of Kevin Ramani as its Chief Revenue Officer (CRO). Fleet Space has seen a 45% increase in staff since January 2022 and is now focusing on expanding their presence on a US and Global Scale.
A key addition to the Fleet Space leadership team, Kevin will have overall responsibility for all matters relating to revenue generation, including sales, new business development and delivering customer-facing services.
Kevin has been fascinated by space since childhood: at the age of 15, he took part in a robotics competition, working with mentors from NASA's Jet Propulsion Laboratory (JPL). After studying Mechanical Engineering at UC Santa Barbara, he joined JPL himself, working on projects including the Phoenix Mission that discovered water and ice on Mars, and the Curiosity Rover mobile lab that located organic particles on the Red Planet.
He then founded a series of tech businesses in Silicon Valley, including a successful CRM platform specifically designed for fast-growing start-ups. After seven years, he applied his knowledge to mentoring and coaching: it was in this capacity that he met Fleet Space founders Flavia Tata Nardini and Matt Pearson in 2019.
Although Fleet Space has its headquarters in Adelaide, South Australia, Kevin will continue to be based in California in his new role. His priority is to expand and strengthen Fleet Space's business development, delivery and account management teams in the US and worldwide. This comes after Fleet has recently announced joint partnerships with Core Lithium in Australia and Talon in the US.
Commenting on his new appointment, Kevin says: "As a coach, Fleet was the best-performing company I'd ever come across by far: a combination of humble but great technologists who are amazing at execution. This is a fantastic opportunity, with the geopolitical pressures on energy and resources driving an international clamour for precisely the brilliant, innovative technology Fleet is developing right now. What Fleet does is so valuable, it's less about where I am and more about understanding the purpose, the culture and the company. If we can put the right people in place, we can help transform the global mining and mineral exploration sector, which is so critical to both economic development and the fight against climate change. With more customers in our pipeline, it's crucial to have the right foundations in place to ensure a smooth delivery and greater success."
At the end of October, Fleet also announced the hire of their Chief Product Officer, Hemant Chaurasia. Hemant, who joined from VP of Product Management at Astra now leads the product roadmap from initial strategy to final deployment. Hemant and Kevin are few of recent hires at Fleet since increasing in staff by 45% since January 2022.