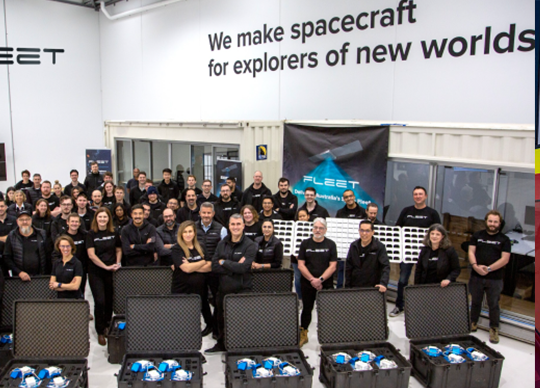 Fleet Space Technologies has announced what it says is the successful completion of its heavily oversubscribed Series C fundraising round, raising a total of A$50 million.
The company says the substantial amount has more than doubled its valuation, now surpassing A$350 million.
The new funding is led by Australasian venture capital firm and existing investor Blackbird. Grok Ventures, Alumni Ventures and Hostplus have also participated in the round.
Fleet Space says new investors such as TelstraSuper have strengthened Fleet's institutional register, as well as highly strategic investments from Bondi Partners / The 1941 Fund and Pavilion Capital. North Ridge Partners was Fleet's exclusive financial advisor for the Series C round.
This latest funding round comes as a result of the company's standing in commercializing its revolutionary ExoSphere satellite-based mineral exploration technology worldwide. ExoSphere is currently in operation with more than 30 clients globally, including Rio Tinto, Barrick Gold Corporation, Core Lithium and Gold Fields with well over 100 surveys for mineral exploration projects either completed or in progress. Many of these minerals play a pivotal role in the energy transition necessary to achieve global net-zero targets.
Federico Tata Nardini, Chief Financial Officer, Fleet Space Technologies, says, "This Series C success highlights our resilience and ability to thrive in the face of a challenging financial environment. When we completed our Series B funding round in 2021, the market was already contracted due to the global pandemic. Since then, the investment climate has become even more challenging, so to secure funding on this scale now is a huge achievement for us, and a fantastic vote of confidence from our new and existing investors."
Fleet Space Technologies has also recently secured a contract with Australia's Defence Space Command, which will see its commercial satellites used to develop and demonstrate a Low Earth Orbit (LEO) satellite communications system.
Flavia Tata Nardini, Co-Founder & CEO of Fleet Space Technologies, says, "ExoSphere is transforming critical mineral and mining projects worldwide, and we're proud to be leading the way in this important field. Our worldwide growth is a testament to our team's hard work, talent and dedication. With this new funding, we are in an ideal position to propel further innovation and drive growth within the mineral exploration industry, not only in Australia but across the globe. Looking ahead, our vision extends beyond Earth as we aim to leverage these cutting-edge techniques to scan the Moon and Mars, enabling responsible exploration and unlocking extraterrestrial resources that were once out of reach."
"Fleet Space Technologies is a genuine Australian success story, and a key player in our nation's burgeoning space sector. I've followed the company's fortunes closely over the years and know just how much time, effort, talent and dedication has gone into this success, which has now been richly and deservedly rewarded with this new funding round. It's truly remarkable to witness Fleet's exponential expansion, and their achievement of growing a team of 100 highly skilled staff is a testament to their vision and ability to attract top talent. I look forward to seeing Flavia, Matt and their team, and their investors, take Fleet Space Technologies to the next level and help secure Australia's place in the global space industry," said The Hon Peter Malinauskas MP, Premier of South Australia.
"Since the launch of Exosphere, our groundbreaking product, we have achieved an impressive milestone of reaching $28 million in contracted revenues within a year, deploying customers in every continent of the world. This exceptional growth in revenue, coupled with our robust customer acquisition, has been a driving force behind our successful Series C round. The U.S. Energy Information Administration (EIA) has pointed out that the world will need hundreds of new mines to meet the critical minerals demand required for the energy transition. We are believers that space enabled data in exploration will allow the search for critical minerals to speed up so much that we will be able to reach humanity's targets for net zero. With this capital we aim to map the subsurface of Earth and find the deposits that are needed with a much lower environmental impact," said Flavia Tata Nardini, CEO and Co-Founder, Fleet Space Technologies.
"Fleet Space Technologies has made stunning progress over the past year, with a game-changing product loved by customers. The company's strong traction and sales during this time build on the team's technical leaps forward, and Flavia's magical ability to bring people together and make things happen. We are honoured to have invested in Fleet from its earliest days, and with this fundraise deepen our conviction in the company's future," said Niki Scevak, co-founder and Partner, Blackbird Ventures.