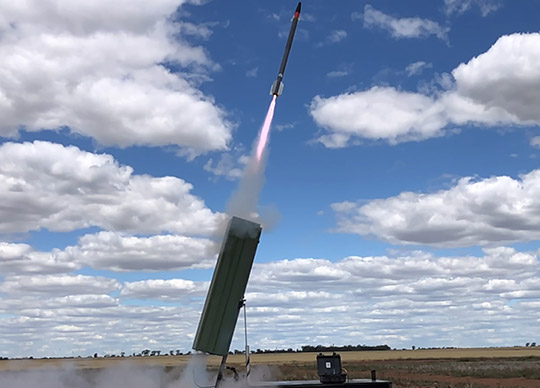 Queensland rocket company Black Sky Aerospace (BSA) has successfully fired nine guided weapons from its Southern Queensland launch site, including a barrage of four units from the first of type launch POD system.
Utilising its own Australian-made solid rocket propellant, BSA is the first sovereign civilian operator to demonstrate such a capability. The launch came just as Prime Minister Anthony Albanese flagged his intention to boost the firepower of the Australian Defence Force.
BSA Chief Executive Officer Blake Nikolic said the launch responded to the Prime Minister's question: "how does Australia defend ourselves? Where are our missile capabilities?"
Mr Nikolic said part of the answer to the Prime Minister's question lie in local companies developing sovereign Australian capabilities.
"There are Australian companies which have already taken up the challenge; not waiting till it's too late, but actively developing systems so we are not overtaken by events," Mr Nikolic said.
"We have now tested and gathered data for further development of our guidance system. BSA and its partners are getting on with the job, and getting it done quickly."
"Development, integration and operations has been an exciting challenge for the company but having heritage in rocket platforms and explosives manufacturing, provided the foundation for this successful round of demonstrations.
Mr Nikolic said working with partners in Queensland on the necessary hardware and software validated supply chain resilience and proved there is no need to wait up to five years for Australia to think about sovereign capabilities.
"The success of these firings comes from a very talented group of Aussies collaborating to produce Australian Industry Capability. We have all the resources to deliver capability to the ADF and our allies today," Mr Nikolic said.
The launches provided an opportunity to collect data which will be analysed to deliver further improvements on the next phase of development, planned to take place over coming months.