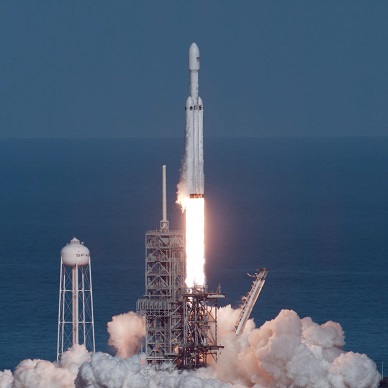 Written by Staff Writer.
SpaceX is celebrating the successful launch of its fifth-ever Falcon Heavy rocket from Kennedy Space Center late in the afternoon of January 15, 2023 (Florida time). The powerful triple-core rocket is operating a mission on behalf of the US Space Force.
Initially scheduled for January 14, SpaceX delayed the launch for 24 hours. However, the lift-off from Launch Complex 39A at 17:56 on Sunday was trouble-free, with the side boosters detaching just minutes later and soon after making a flawless and visually spectacular tandem controlled landing back onto launch pads at the space centre.
While SpaceX launches are not unusual, the smaller and lighter Falcon 9 rockets usually operate them. Falcon 9 rockets have performed 195 launches since 2010. Falcon Heavy's engine cores house 27 Merlin engines which can generate five million pounds of thrust capable of lifting a 64 metric tonne payload into orbit, but Falcon Heavy has launched only a handful of times since its inaugural mission in 2018.
Sunday's mission, officially USSF-67, was carrying satellites into orbit on behalf of Space Force. Precise details concerning the satellites remain classified, but a statement from Space Force's Rapid Capabilities Office (SRCO) said that the payload included "two operational prototypes for enhanced situational awareness and an operational prototype crypto/interface encryption payload providing secure space-to-ground communications capability."
However, Space Force has confirmed that the first prototype is a Continuous Broadcast Augmenting SATCOM (CBAS)-2 communications satellite, which will go into geostationary orbit 35,700 kilometres above Earth. According to SRCO, the military communications relay station will provide communications relay capabilities to support senior military leaders and combatant commanders. "The mission of CBAS-2 is to augment existing military satellite communication capabilities and continuously broadcast military data through space-based satellite relay links," SRCO said.
The military space agency was more circumspect on the nature of the second prototype, a Long Duration Propulsive ESPA (LDPE)-3A payload carrier with its own propulsion and navigation systems and five technology demonstration payloads onboard.
Three of those demonstration payloads will provide the US military with "enhanced situational awareness" and encryption technology for space-to-ground communication," with US media reporting the two other payloads include a space weather sensor and equipment to monitor and eavesdrop on other satellites.
While Sunday's Falcon Heavy launch was never going to keep a low profile, SpaceX has been unusually reticent about the mission – other than describing it as a success. SpaceX cut the launch live feed after the fuel boosters detached to keep the final orbital position secret.
Sunday's launch was also the second Falcon Heavy launch in three months operating on behalf of the US Space Force following Space X winning a firm-fixed-price, indefinite-delivery requirement contract in 2020 to provide national security space launch services.
Falcon Heavy was the world's most powerful rocket until gazumped by NASA's Space Launch System (SLS) in 2022. However, SpaceX is in the final stages of planning for the inaugural launch of its Starship and Super Heavy Booster rocket stack, which will use 33 Raptor engines to produce around 7.25 million kilograms of thrust, almost double that of the SLS.