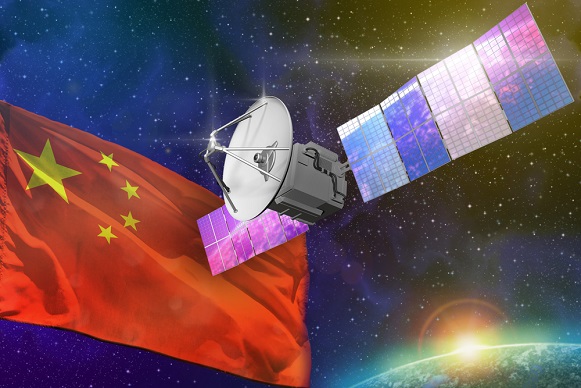 Written by staff writer.
China has announced plans to build an internet satellite constellation to take on SpaceX's Starlink. In a paper published in the Command Control and Simulation journal on February 15, the authors said the proposed constellation should be deployed "before the completion of Starlink."
The Chinese language academic journal published the paper detailing a satellite project codenamed "GW." Associate Professor Xu Can of the People Liberation Army's (PLA) Space Engineering University in Beijing is leading the project. Xu said the entire constellation would comprise 12,992 satellites in near-Earth orbit. State-owned entity China Satellites Network Group Ltd would own the satellites.
First reported in Hong Kong's South China Morning Post, the research paper did not disclose the launch timeline for the satellites. However, the plan is to construct a China-made and owned satellite constellation to provide an alternative to Starlink.
The paper said the satellites would be situated in "orbits where the Starlink constellation has not yet reached." The paper also said the constellation would "ensure that our country has a place in low orbit and prevent the Starlink constellation from excessively pre-empting low-orbit resources."
Starlink already has over 3,000 satellites in orbit. SpaceX plans to increase this to over 12,000 by 2027. Eventually, it is eyeing a full complement of around 40,000 satellites. China has a history of publishing proposals for large-scale satellite deployments, which haven't panned out. The country also currently lacks a reusable rocket similar to SpaceX's Falcon 9.
However, in 2020, China submitted spectrum allocation filings with the International Telecommunication Union (ITU). The filings revealed plans to deploy 12,992 satellites in various sub-constellations into orbit between 500 and 1,1,45 kilometres up. The satellites would operate across different frequency bands at inclinations between 35° and 85°. The 2020 filing superseded previous filings for smaller constellations.
In 2021, the Chinese Government set up China Satellites Network Group Ltd to oversee GW. In March 2022, a private China-based space company sent six stackable V-band satellites into orbit using a Long March 2C rocket. The government used the launch to say via media that "China has built up the low-cost, batch development and networking operation capabilities of satellites, all factors necessary to build a satellite internet mega-constellation."
Last week's research paper also argued that SpaceX could potentially weaponize its constellation, saying they are equipped with surveillance sensors to survey the low-orbit environment. "The Starlink satellites may use their orbital maneuverability to actively hit and destroy nearby targets in space," the paper said.
Xu's team says China's current space surveillance capabilities cannot adequately monitor the 40,000 planned Starlink satellites, but a homegrown constellation would go a long way to overcoming this. Xu also suggested that Beijing could collaborate with like-minded governments to create an anti-Starlink constellation.
Meanwhile, SpaceX continues to push on with the deployment of Starlink satellites. On February 27 (US time), another Falcon 9 launch will carry another 51 Starlink satellites into orbit from the Space Launch Complex at Vandenburg Space Force Base in California.