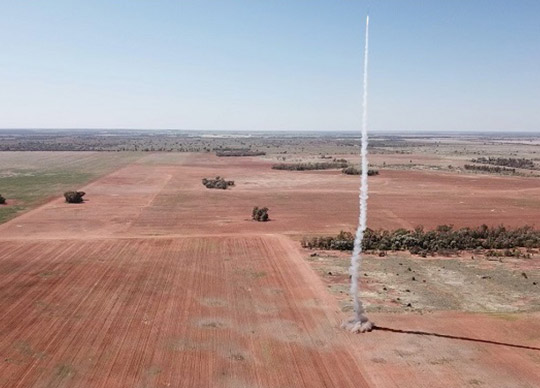 Black Sky Aerospace says it has received approval to develop a rocket fuel facility and associated infrastructure in southern Queensland.
With this "Material Change of Use" Black Sky will now develop facilities to undertake industry activities, research and technology industry, research and development flights, motor tests and rocketry events.
The more than 2500-acre property is currently used mainly for agriculture but will become an important part of the rocket industry supply chain.
Black Sky CEO Blake Nikolic said the approval allows the company to start developing the infrastructure needed for the next phase of the company's growth to meet the needs of its space and defence business.
"This approval allows us to develop complementary capabilities on a single site so we can manufacture and test fire rockets without having to travel," Mr Nikolic said.
"That means we will produce the solid rocket propellant and the rocket motors in one location, then take them out and test them without having to go long distances for every test," he said.
"This will dramatically reduce our cycle times for research, development, test, evaluation and qualification, ensuring the highest levels of quality control.".
"The Defence Strategic Review again reinforced the need for rapid development of sovereign capabilities. The facilities developed on this site will achieve that for solid rocket propellant, ammonium perchlorate, rocket motors and a host of other space and defence products," concluded Mr Nikolic.