The Australian Government recently announced $65 million will be invested into launching homegrown rockets, Spacecraft, and Astronauts into Space, and further developing three new or existing Spaceports and Launch Facility sites from Australia.
Australia has several Spaceport options, giving it, and its international customers Space access.
▼ Map tracking Australia's developing Spaceport options.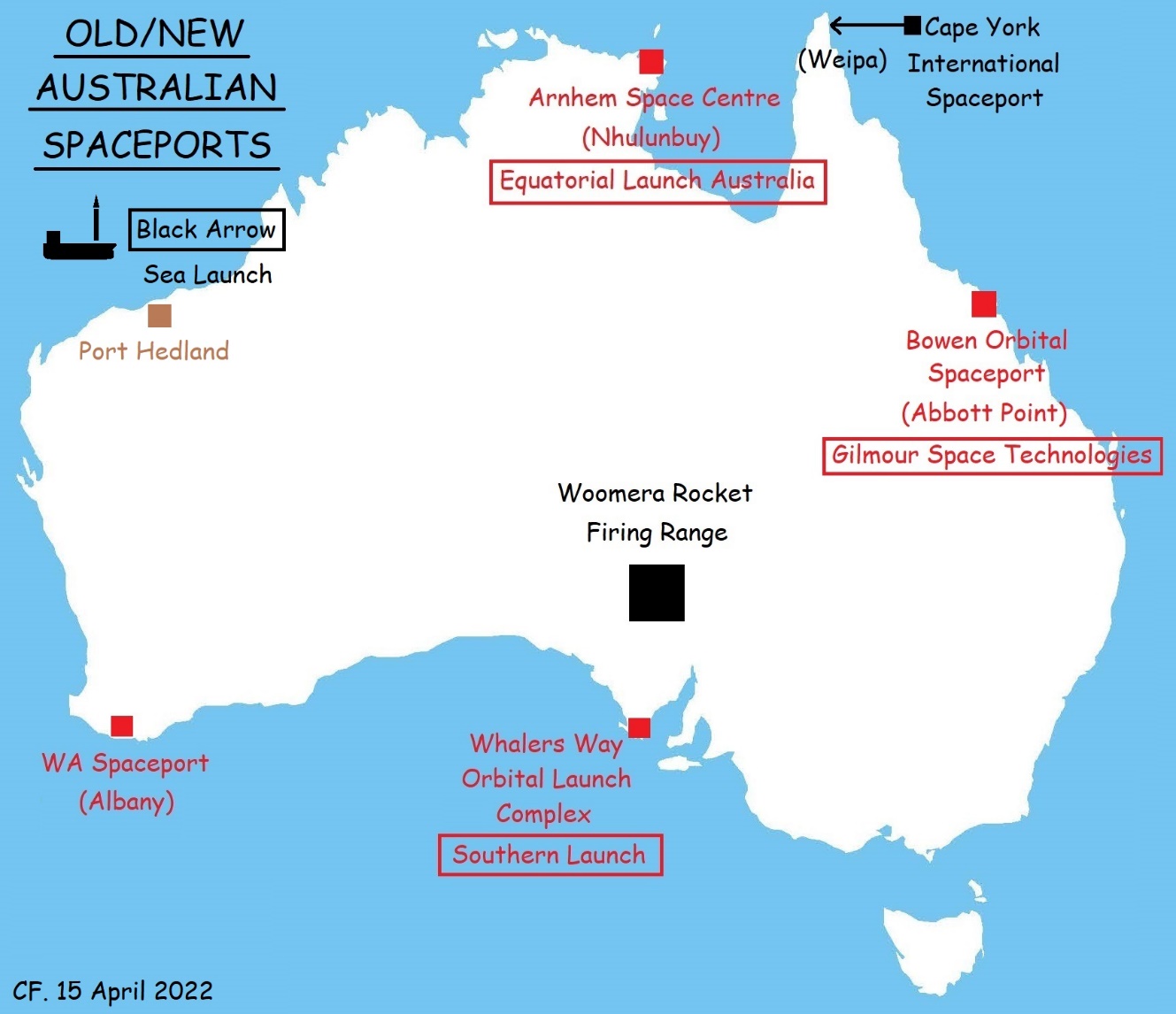 In 2020, the Royal Australian Air Force announced its first Space payload launch from Australia. A DART rocket carrying a Defence payload was launched from the Koonibba Rocket Range in South Australia, marking the first commercial rocket launch to the edge of Space from Australia.
► The DART rocket is 3.4 metres long and weighs 34 kilograms.
In 2021, rocket launches in South Australia were approved. Access to Polar Low Earth Orbit is achievable from South Australia's Eyre Peninsula, and historical Woomera ranges for small payload launching technology.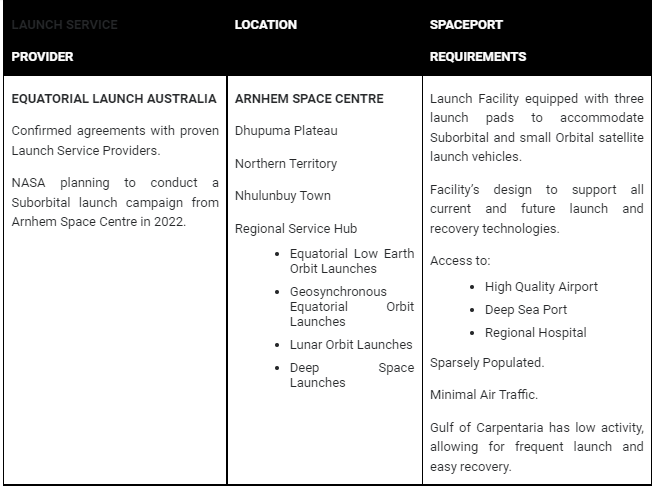 ► 12 degrees South of the Equator (Advantage of Earth's rotation = Extra velocity). Improves payload to fuel ratios providing significant cost savings.


Approvals finalised for construction of two Rocket Launch Facilities.
Aim is to develop a Space Launch Facility offering rocket launches for both Australian and International customers.
Providing infrastructure and logistics support for Orbital and Suborbital launches of satellites and Space payloads.

GILMOUR SPACE (LAUNCH PROVIDER)


▲ The 25 meters 3 Stages BLOCK 1 (2022) Eris Orbital Launch Vehicle. First commercial launch expected in 2022. A three-stage rocket. Its diameter is 1.2 to 2 metres in different sections. Its Payload Fairing: 1.2 or 1.5 meters in diameter. Can deliver up to 305 kilograms to Low Earth Orbit; up to 215 kilograms to Sun Synchronous Orbit; or, 305 kilograms into Equatorial Orbits; at around 500 kilometres distance from Earth (Gilmour Space).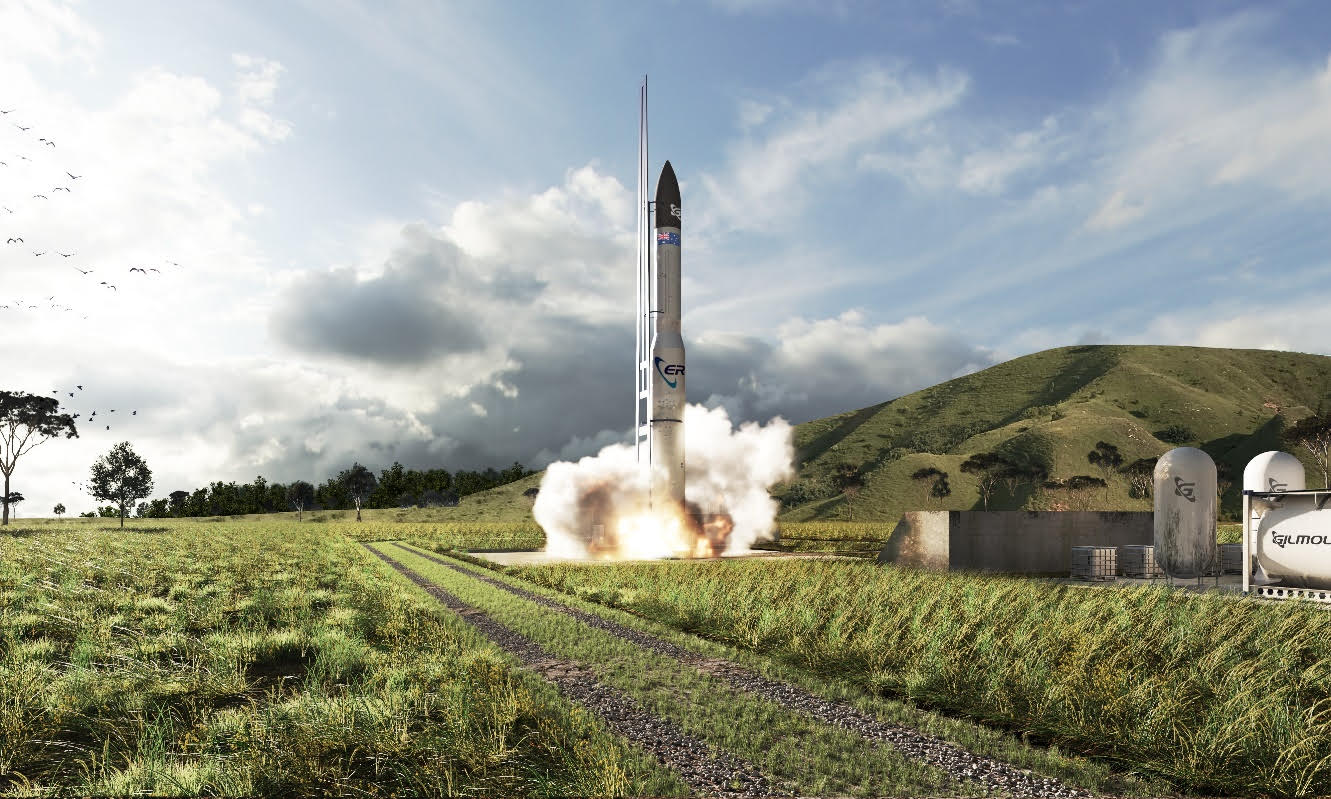 ▲ Eris launching from the proposed Bowen Orbital Spaceport in North Queensland, Australia (Gilmour Space).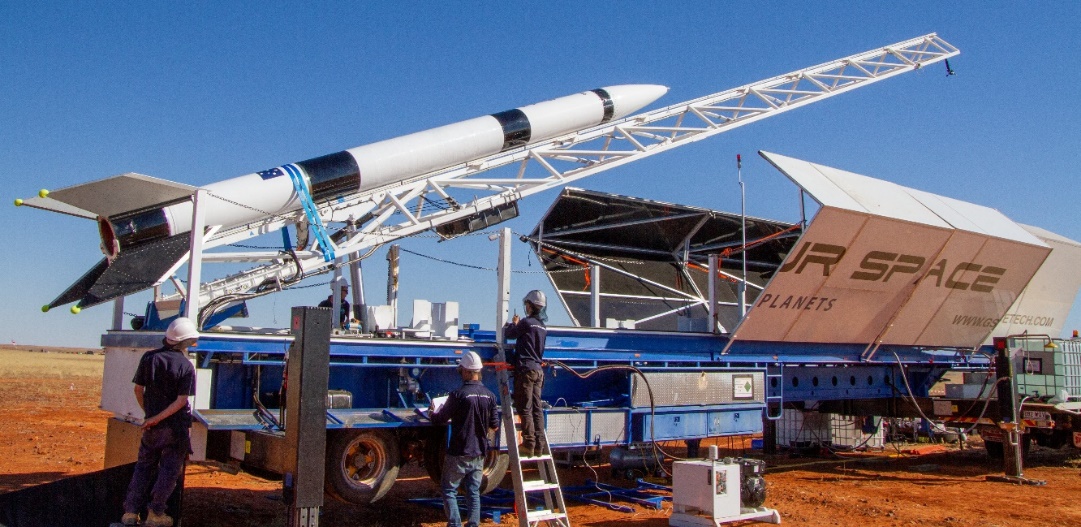 ▲ Gilmour Space Technologies Test Rocket Mobile Launcher (Gilmour Space).
ABBOT POINT SMALL ROCKET LAUNCH FACILITY SITE
Queensland State Government, in Australia, has recently given its go-ahead for a small rocket launch site at Abbot Point.
HORIZONTAL LAUNCH SERVICES OPTIONS, AND SPACEPLANE LANDINGS IN AUSTRALIA?
Horizontal Launch Services seek to access all trajectories utilizing the flexibility of the fast-developing commercial use of the technology from suitable airfield locations. Space-Launch geographic spread makes it possible to outrun bad weather, or technical delays, as these can be mitigated by moving to alternate sites. Australia's international airports, which are expected to operate in conjunction with Spaceports, could host Horizontal Launch Services.
Rocket Launching Aircraft can be performed from any airfield with long enough runways and service infrastructure. The flexibility of this kind of offering can, in theory, be flown from anywhere. Potentially, several airports could be configured to operate a Rocket Launching Aircraft, which could rotate around the country for various reasons, such as meeting certain launch windows, client location, or looking to reach certain Orbital Positions.
► Virgin Orbit's 'Cosmic Girl', is a former modified commercial 747, that can carry a small rocket, with a payload of up to 500 kilograms into Low Earth Orbit. Can take off anywhere on the planet as long as there is an airfield that can accommodate a 747.
One possible outcome for Australian Airports is the services and support options for overseas seasonal operators, such as running Space tourism events, for an operator like Virgin Galactic. This could also include Space Ballooning Tourism.
Services and support for Spaceplane operations at a major commercial airport with suitable length runways, following the UK model could be a possibility. Many commercial airline runways have the appropriate length to accommodate a Spaceplane landing. For instance, Darwin International Airport's runway is 3,354 meters long, and Dream Chaser requires 2,400 meters of runway for landing.
PORT HEDLAND AND SEA-BASED LAUNCH OPTIONS
Sea-Based Vertical Launch technologies is another type of commercially flexible option. It is foreseeable that a company like Black Arrow Space Technologies (UK), could operate from a location like Port Hedland, here in Australia. Spaceport Requirements would include seeking continental shelf waters; as deep water has longer sea swell, meaning greater requirement on stabilization, and/or flight guidance. Accessing waters that have low, or sparce levels of Human activity, is a major requirement, as is access to Equatorial launches; as well as, being able to service Polar, and Sun Synchronous Orbit customers.
Like other Spaceports, a Sea-Based option would look for requirements, which can be found at Port Hedland, such as its natural deep anchorage harbour, access to road, rail and air freight services.
WHAT IS A SPACEPORT?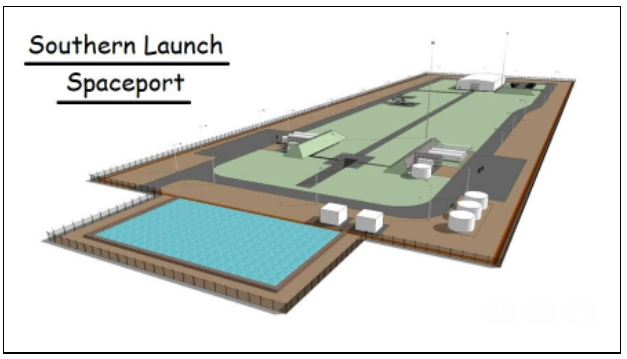 ▲ Rendered design of the Whalers Way Orbital Launch Complex (Southern Launch).
Spaceport Launch Facilities can include:
TO SUM-UP
The Continental mass and position of Australia, present an opportunity to look at a geographically spread system, remarkably similar to the Chinese mainland's three inland positioned Spaceports or the UK's potential for several Northern vertical Space-Launch positions.