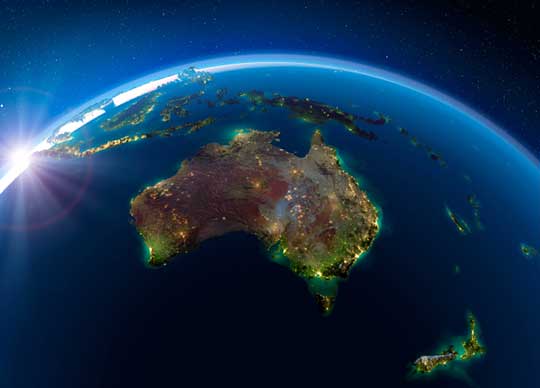 By Staff Writer
Australia's emerging space industry has received a significant boost after signing a deal with NASA to build a semi-autonomous rover destined to hitch a ride to the moon later this decade.
On Wednesday morning, the Australia Space Agency confirmed the agreement, saying it had reached an agreement with NASA.
"It's about growing the economy and creating jobs," said the agency. "Space opens new doors for a range of different industries, from mining and resources to manufacturing."
Australia has a long-running connection to NASA's Artemis human exploration program. Artemis is an ambitious plan to fly a human-crewed mission to Mars. Returning to the moon is a step along the way.
The Australian Government's Trailblazer program will contribute $50 million towards building the rover, which will collect and analyse lunar regolith soils. NASA wants to learn how to extract oxygen from the soil.
NASA is eyeing a manned flight to the moon as soon as 2024. Beyond then, NASA wants to establish a permanent base at the moon's south pole to serve as a staging post for Artemis missions to Mars sometime next decade.
"This mission to the Moon is just one exciting way that we can create opportunity and jobs for the future, and our government will ensure Australians reap the benefits," said Prime Minister Scott Morrison.
"By 2030, we want to triple the size of our space sector, adding $12 billion to our economy and creating up to 20,000 new, high skilled jobs."
After decades of neglect, there is a renewed focus on Australia's role in space. The Australian Space Agency, responsible for developing Australian commercial space interests and liaising with international space agencies like NASA, was only set up three years ago.
Since then, the Australian Government has invested more than $700 million into the space sector, and some swift gains have been made. Research institutions like Curtin's Space Science and Technology Centre have begun building miniature satellites and sending them into space.
Next year, Canberra-based startup Equatorial Launch Australia is providing NASA with a temporary southern hemisphere launchpad in the Northern Territory for a series of suborbital rocket launches in what will be NASA's first use of a commercial spaceport outside the US.
The recent AUKUS security pact will also facilitate a more significant role for Australia and its allied defence industries in space, particularly in the area of military communication, navigation, and weapons guidance satellites.
But the planned 2024 moon voyage is pushing Australia's interests in space out past near-Earth orbit.
"The mission will demonstrate Australian industry's world-leading skills and experience in remote operations and autonomous systems," says the Australian Space Agency in a statement.
The Space Agency chief, Enrico Palermo, says Australia has particular skills in robotics and systems for remote operations, both of which are in demand at NASA.
He says the deal with NASA is an opportunity for Australia to leverage those skills and gain a greater foothold in the space industry.