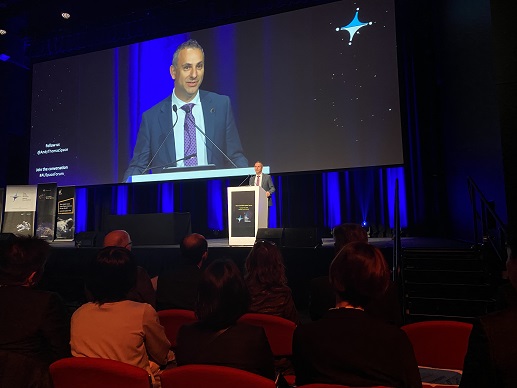 Written by staff writer.
Australia is perfectly placed to become a return destination of choice for the global space industry, says Australian Space Agency (ASA) head Enrico Palermo. He says Australia and other countries are becoming increasingly skilled at sending objects into space, but we need to bring the same things back to Earth safely and responsibly.
While generating little public comment, the Australian Government has already legislated for space returns. The Space (Launches and Returns) Act (2018) lays down the returns rules for Australian and non-Australian space objects. Barring issues of public safety, national security, and a blanket ban on receiving space objects containing weapons of mass destruction or nuclear weapons, the legislation is a potential roadmap for developing a space return industry in Australia, something that Palermo is keen to do.
"I'm personally excited about making Australia the destination for returning objects from space, doing it responsibly, and leveraging those unfair advantages of our geography and landscapes, our low population density, our ability to track, and our supportive government," he said during a keynote speech at the Andy Thomas Space Forum in Adelaide this week. "We need to harness those unfair advantages at every opportunity."
Palermo isn't talking about allowing uncontrolled crashes in Australian territory on a pay-per-service basis. He's interested in controlled landings on open terrain away from population centres. Later speaking exclusively to MySecurityMedia on the sidelines of the Space Forum, Palermo said that the ASA was working out how to exploit the opportunity. He said any return needs to happen in a manner that respects the country upon which it lands. "The technology is advanced that you can land with pretty good precision." Palermo cites the many successful Falcon 9 landings as a template for a responsible, controlled return.
"The (return) is controlled, particularly for a capture return where the technology has been going for 60-plus years. It's possible to steer (returning objects) and get them into a zone, and we will do it responsibly."
He mentions the successful return of the Japanese Hayabusa asteroid probe in 2010 as an example. The spacecraft burnt up over Australia as it re-entered the atmosphere. But before that happened, it released a container containing samples collected from the Itokawa asteroid. That container parachuted back to Earth without incident at Woomera, South Australia, with the samples landing safe and intact,
Last month, Australia's Southern Launch signed an MoU with Welsh space entity, Space Forge, to work on potential satellite return technologies at Southern Launch's Koonibba Test Range, also in South Australia. They hope to announce a joint mission by the end of 2023. Palermo used this agreement as an example of something the Australian space sector could come to excel in.
The ASA head says the space returns industry is something that Australia has the potential to build a capability in as it strives to seize a bigger slice of the global space spend. "We have a big geography and can do a big track with our tracking capabilities. We have a responsible regulatory environment. We're a trusted partner with many nations around the world. An investment in any space mission is very significant, and you have to trust that we can land it safely, but as a nation, we can."