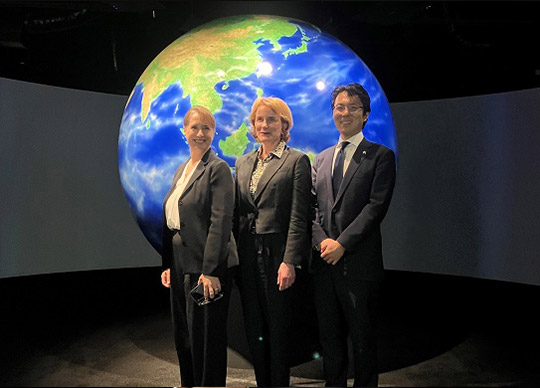 Astroscale has announced the appointment of three industry professionals to the Astroscale Board of Directors.
Joining as new External Directors are Gayle Sheppard, Chief Executive Officer of Bright Machines, a prominent software and data led factory automation and production platform company, and Erica Newland, formerly the Chief Financial Officer of Baraja, a global LiDAR sensor technology start-up.
Nobuhiro "Matsu" Matsuyama, Chief Financial Officer of Astroscale since November 2021, has joined as an Internal Director. These three new Directors bring invaluable levels of expertise and experience that will further strengthen Astroscale's financial position, sharpen its strategic vision and accelerate its drive for innovation in space sustainability.
"I am so excited to have Gayle, Erica and Matsu join our Board," said Nobu Okada, Founder and CEO of Astroscale. "Their presence immediately makes Astroscale better equipped than ever to revolutionize on-orbit servicing and make significant contributions to space sustainability. Together, we will drive the company's vision forward, ensuring space remains accessible for generations to come."
Gayle Sheppard is a global technology executive with extensive experience leading software businesses and teams worldwide.
She brings valuable expertise from several sectors, including aerospace, manufacturing, financial services and national governments.
Throughout her career, Gayle has been instrumental in driving organizational transformations by re-engineering core enterprise software, customer relationship management, supply chain management, and discrete manufacturing systems.
Her background includes prominent roles such as Corporate Vice President and CTO at Microsoft, as well as Vice President and General Manager of Saffron Artificial Intelligence Group at Intel Corporation.
Erica Newland is a financial expert and experienced board director, possessing deep expertise in international mergers and acquisitions and global manufacturing operations.
She brings a strategic perspective and extensive knowledge of sensor technology, hardware goods, and industrial manufacturing industries with global experience living in Eastern Europe and Asia.
Some of her most notable previous roles include serving as a board member of DroneSense, Business Unit CFO at FLIR Systems, and China Strategy Finance leader at Intel Corp.
Nobuhiro Matsuyama is entrusted with leading Astroscale's global financial function. With over 12 years of experience in global finance and banking, Matsu's expertise encompasses financial strategy, capital markets and risk management.
Prior to joining Astroscale, he held key positions in the Investment Banking Division of Goldman Sachs in Tokyo and New York over the course of seven years.
Gayle, Erica, and Matsu join the rest of the Astroscale Board of Directors, which includes External Directors Shinji Oshige, Executive Managing Director of Innovation Network Corporation of Japan, Yuko Suzuki, an experienced lawyer specializing in technology law and intellectual property, Jan Wörner, former Director General of the European Space Agency, and Internal Directors Nobu Okada and Chris Blackerby, Chief Operating Officer.