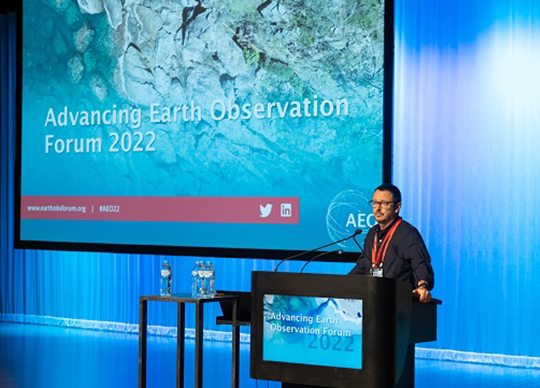 Adelaide has succeeded in its bid to host the second Advancing Earth Observation Forum (AEO24) to be held at the Adelaide Convention Centre, 9-13 September 2024.
The biennial Advancing Earth Observation Forum was created to enable the Earth observation (EO) community to communicate, coordinate, collaborate and collectively assess the state of EO in the Australian and Asia-Pacific region.
The five-day event will attract delegates across a broad spectrum of applications, sensors and interests, including industry, research, Defence, government, students and end-users.
South Australian Space Industry Centre Chief Executive Richard Price said Adelaide was ideally situated to host the forum, given the state's extensive space ecosystem of more than 100 space-related organisations and its strengths in EO.
"South Australia is at the forefront of Australia's space and EO endeavours," said Richard.
"EO satellites and the data they provide have a meaningful impact on the lives of Australians and across a range of industries including agriculture, minerals exploration, climate change management and Defence. South Australia is playing a leading role in the development of this.
"From machine learning and data processing to Internet of Things (IoT) and developing the satellites and sensor packages, South Australia's expertise spans the full spectrum of EO needs."
AEO24 will build on the momentum generated at the inaugural AEO Forum held in Brisbane in 2022, bringing together all sectors involved in EO to propel the sector forward to meet the growing international demand for EO.
Megan Lewis, President of Earth Observation Australia said the 2022 Forum was attended by more than 285 participants from all sectors of the EO community and they planned to strengthen these numbers in 2024.
"AEO24 will bring together and showcase the breadth, depth and diversity of expertise and activity across the whole EO value chain, from development of sensors, platforms and EO programs to analysis and interpretation of data, and its use for
an incredibly wide range of applications that are now integral to so many aspects of our daily lives," said Megan.
"The Adelaide hosts and location provide an outstanding opportunity to strengthen upstream and downstream connections within the space and EO ecosystem, and between multiple sectors, interests and end users.
"The Forum is highly valued by the EO community, and we look forward to working with the Adelaide team to deliver a successful event in 2024."
Chief Executive Officer of Business Events Adelaide, Damien Kitto, added, "Adelaide's industry strengths in space, technology and innovation makes it the ideal location to hold business events such as the Advancing Earth Observation Forum".